Appaji canteen dedicated to Deve Gowda shut due to Vaastu problems?
The Appaji Canteen dedicated to former Prime Minister HD Deve Gowda was opened by JD(S) MLC TA Sharavana with much fanfare last year as a fitting reply to Siddaramaiah's Indira Canteen. The eatery, located in the JD(S) Head Office, JP Bhavan in Sheshadripuram, is now shut. Sources say this was due to Vaastu issues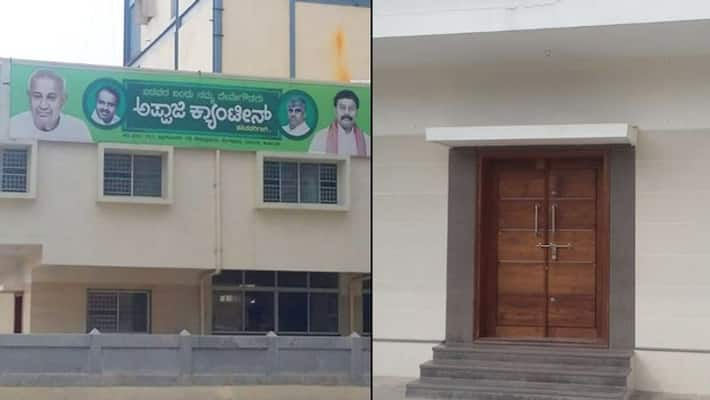 Bengaluru: The Appaji Canteen dedicated to former Prime Minister HD Deve Gowda has been shut. It was opened to counter the Congress and Siddaramaiah's pet project Indira Canteen last year.
A source in the JD(S) said that the canteen had come up in Kubera Mule (The corner of wealth) which according to astrology is not a place for lord Kuber who brings prosperity.
"It looks like the canteen has come up in the wrong place, thus bringing bad omen to the party that performed terribly in the Assembly elections and is sitting on power at Congress's mercy," said a source.
However, the JD(S) leader and MLC TA Sharavana who is the brainchild and the promoter of Appaji Canteen rubbished the claim of 'vaastu problem' and said it does not attract any crowd in the party office.
"There are only 50 to 100 visitors to the canteen most of the time and hence we have decided to shut. There is no vaastu issue. The party office was built as per the directions of HD Revanna who is a strong vaastu believer," Sharavana.
BJP was quick enough to launch a scathing attack over this development.
"The JD(S) accepted that it does not attract any karyakartas. This is evident that the popularity has gone very low. Hence we can call this place as a family office rather than a party office," said S Prakash, BJP spokesperson.
Last Updated Dec 29, 2018, 6:20 PM IST