India's first hydrogen-powered fuel cell bus to run from September 25
India is set to launch its first hydrogen-powered fuel cell bus, marking a significant step towards green mobility. The initiative, fueled by green hydrogen produced from renewable sources, has the potential to revolutionize low-carbon transportation and self-reliant energy solutions.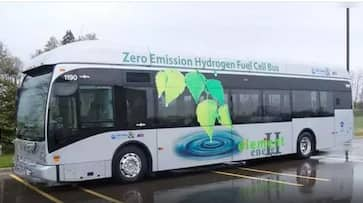 In a significant stride toward sustainable transportation, India is set to unveil its first hydrogen-powered fuel cell bus on September 25, with Union Minister of Petroleum & Natural Gas, Hardeep Singh Puri, officiating the event. The bus, powered by green hydrogen produced from renewable energy sources, represents a promising development in low-carbon and self-reliant economic pathways.
Green hydrogen holds the potential to harness India's abundant renewable energy resources year-round and across various sectors. It can serve as a clean fuel or industrial feedstock, substituting fossil fuel-derived inputs in industries like petroleum refining, fertilizer production, and steel manufacturing.
Fuel cell technology is emerging as a crucial component of the electric mobility landscape, where hydrogen can be employed as a fuel for fuel cells. Through an electrochemical reaction, hydrogen at the anode combines with oxygen from the air at the cathode, producing water and generating electrical energy in the form of electrons.
Fuel cells offer notable advantages, including high efficiency compared to other transportation options. Fuel cell vehicles boast extended ranges and quicker refuelling times than battery-powered vehicles. Hydrogen gas is stored onboard in cylinders, typically at a pressure of 350 bar.
IndianOil has embarked on a comprehensive program involving operational trials of 15 fuel cell buses fueled by green hydrogen. These trials will be conducted on designated routes in Delhi, Haryana, and Uttar Pradesh. The inaugural launch of the first two fuel cell buses will take place on September 25, commencing from India Gate.
This initiative marks a significant milestone in India, as it involves the dispensing of green hydrogen at 350 bar pressure to operate fuel cell buses. IndianOil has also established an advanced dispensing facility at its R&D campus in Faridabad, capable of refuelling with green hydrogen produced through electrolysis using solar PV panels.
Upon the launch of these two buses, a cumulative mileage of over 3 lakh kilometres will be covered across all buses. This extensive testing aims to assess the long-term performance and durability of this new technology. The data collected during these rigorous trials will serve as a national repository, shaping the future of zero-emission mobility powered by green hydrogen in the country.
Last Updated Sep 23, 2023, 1:05 PM IST