Auto Expo 2023 Exclusive: Maruti Suzuki's Jimny gameplan for India
In an exclusive interview with Asianet Newsable's Gargi Chaudhry, Shashank Srivastava, Executive Director of Maruti Suzuki India Ltd., highlighted the company's vision for Jimny in India, on the Indian car market, among other topics. Check out the full video here.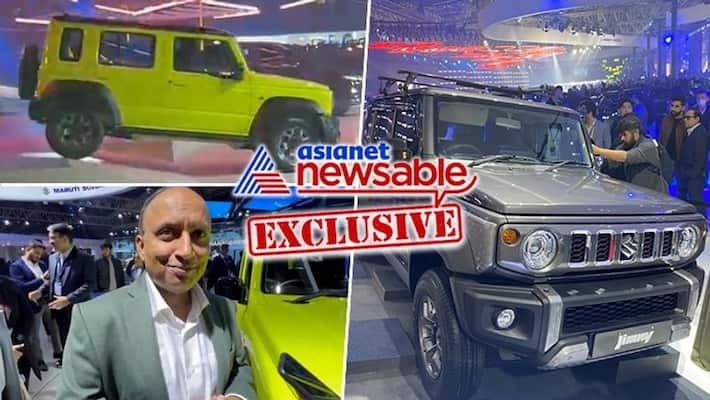 After a long wait, the five-door variant of the Maruti Suzuki Jimny made its debut at the ongoing Auto Expo 2023. Maruti Suzuki has commenced the bookings for the Jimny from January 12 and the token amount has been set at Rs 11,000. The off-roader will be offered for sale at the automaker's upscale NEXA dealerships.
In an exclusive interview with Asianet Newsable, Shashank Srivastava, Executive Director of Maruti Suzuki India Ltd., spoke about the future of the newly launched Jimny. Calling it an iconic brand, Srivastava said, "It's got a legacy and 5-door Jimny is being introduced for the first time. It's for consumers who live SUV life and ideal for difficult terrain." He said that with Jimny, the company is looking to expand in this segment.
Speaking about the upcoming Indian automobile sector, he said, "There are many red flags that we have to keep in mind, including inflation, interest rates among others. Loan rates are increasing and approximately 80% of the retail sale happens with loans. Apart from that, the industry has witnessed supply chain constraints, semi-conductor shortage, some socio-political events and COVID like situation."
He said that they are optimistic and in the next financial year, the company is projecting volumes to touch 4.10 million against 3.80 million in the previous year.
On the Make in India pitch, the Executive Director said, "We have the highest localisation levels in the industry, more than 95% for most models. The eVX unveiled earlier has a lot of localisation as Suzuki has invested Rs 10,000 crore in battery and batteries cost the maximum in electric vehicles."
While concluding the interview, he asserted that the only way to bridge the gap between the production and deliveries is to increase production.
Last Updated Jan 13, 2023, 9:00 AM IST