'Will hunt down every blood-thirsty Hamas terrorist in Israel': IDF's unyielding resolve amid war - WATCH
Israel Defense Forces spokesperson Jonathan Conricus provides a grim update on the dire situation in Israel amid ongoing conflict, highlighting casualties, challenges, and the nation's unwavering resolve.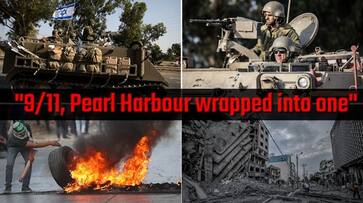 In a somber address from Tel Aviv, Israel Defense Forces spokesperson Jonathan Conricus provided a grim update on the current situation in Israel, shedding light on the 'dire' circumstances facing the nation in the wake of recent unprovoked attack by Hamas militant group. As Conricus spoke, Israel was grappling with nearly 48 hours of intense fighting, particularly in the southern regions of the country. Israeli troops remained steadfast, engaged in efforts to neutralize the last of the terrorists who had infiltrated Israeli territory, a mission expected to take several more hours.
Also read: Clashes erupt as pro-Israel and pro-Palestine supporters rally across American cities - WATCH
The spokesman revealed chilling statistics that underscored the gravity of the situation. Approximately 1,000 militants had participated in an invasion of Israel, described as "blood-thirsty Palestinians" who had ruthlessly scoured Israeli neighborhoods, leaving a devastating toll in their wake.
"We're almost 48 hours into the fighting. Picture and situation in Israel is a dire one. There's still fighting going on in southern Israel. Our troops are still fighting and hunting down the last terrorist that are still inside Israeli territory. That is something that will take a few more hours or maybe even more than that. But at the end of that process all of the terrorists that came into Israel, by the way we access that there were approximately 1000 terrorists, who participated in yesterday's invasion of Israel. About a 1000 blood-thirsty Palestinians, who went house to house, building to building in search for Israeli civilians massacred approximately 700 Israelis have been killed - that's civilians and military included. More than 2100 have been wounded. Unfortunately, there's a high number of critically wounded people, who may not make it. So the astronomic figure of 700 dead Israelis will not remain that," the IDF spokesperson said in a video message posted on X.
Also read: Israel-Hamas war: Several US citizens killed, Biden orders deployment of warships
Conricus added, "It is by far the worst day in Israeli history. Never before have so many Israelis been killed by one single thing. Let alone enemy activity on one day. If you're Americans want to compare this to American history then this could be a 9/11, Pearl Harbour wrapped into one. We're a small country with about 8-9 million Jews living here. Out of that population we've had 700 killed and 2100 wounded."
The ramifications of this tragedy extend far beyond the immediate toll. The IDF spokesperson revealed that a significant number of Israeli civilians and soldiers were currently held captive in Gaza. While an official count was pending, Conricus noted that many Israelis, including women, children, infants, the elderly, and disabled individuals, had been forcibly taken from their homeland. He recounted heartbreaking stories of individuals, such as a Holocaust survivor, who had been transported across the border to Gaza by Hamas militants, highlighting the brutality and cynicism of those responsible.
In response to these devastating events, Israel had mobilized approximately 100,000 reserve troops, stationed in southern Israel and ready to carry out the mission entrusted to the IDF by the government. Their objectives were twofold: to ensure that Hamas no longer possessed military capabilities that threatened Israeli civilians and to prevent Hamas from governing the Gaza Strip.
Also read: Israel had totally wrong intel; thought Hamas 'wanted to avoid war'
"We have amassed around 100,000 reserve troops, who are currently in souther Israel preparing to execute the task that Israeli government has designated the IDF to do. Our job is to make sure at the end of the war, Hamas will no longer have any military capabilities to threat the civilians with. In addition to that, we're also to make sure that Hamas will not be able to govern the Gaza strip. The situation today is fundamentally different than what it was two days ago. At the end of this war, we will change the situation for the better around the border in Gaza and it will be much better for Israeli citizens and better for the Palestinians as well. That is yet to come. That is in the future. As of now, we're focusing on burying the dead, grieving with the families, rallying our troops, preparing ourselves for the military tasks to come and focusing on what needs to be done with Hamas after their unprovoked, barbaric attack against Israel," Conricus added in the video statement.
The IDF spokesperson also underscored Israel's resilience and its history of overcoming adversity in the face of existential threats. Israel had proven time and again that it would not succumb to attempts to annihilate it, regardless of the source. Conricus expressed hope that the global community would stand with Israel during these difficult times, recognizing the nation's unwavering commitment to its citizens' safety and security.
"We're in for a long, difficult and gruesome task. At the end of which I'm sure that we will prevail. Despite how difficult these first days have been and how horribly we started this war, Israel has proven time and again to all of our enemies, whether it as in the past on gangs of Arabs and nation states and now non-state actors, terrorist organisations, all of them have tried to annihilate us and all of them have failed. So shall Hamas and so shall anyone else attempting to do that to us. We shall prevail and we trust that good people in the world will support us," he concluded.
Also read: 'Don't kill me!' Footage of Israeli student pleading to Hamas militants sends shockwaves
Last Updated Oct 9, 2023, 1:35 PM IST