When Dr Anthony Fauci learnt what #ManCrushMonday is
"Well, if #ManCrushMonday makes you get vaccinated, go for it," Dr Fauci said while reading out fan posts with popstar Olivia Rodrigo.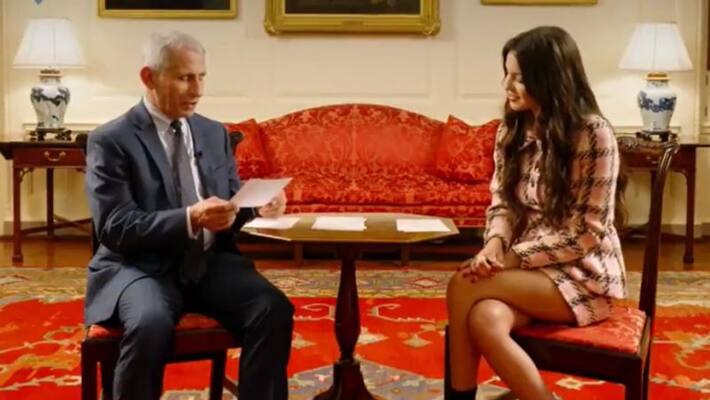 The White House on Friday released a short clip of America's top immunologist Dr Anthony Fauci and Popstar Olivia Rodrigo reading out fan tweets.
The duo sat down read fan notes during Rodrigo's visit to the White House on Wednesday. 
In the video, Dr Fauci and Rodrigo can be seen reading out tweets together and urge people to get vaccinated.
During her visit to the White House, Rodrigo, known for her hit number 'good 4 u', recorded videos encouraging vaccinations. The campaign was part of the Joe Biden administration's efforts to ramp up vaccination numbers among teenagers.
In the nearly 4-minute video, Dr Fauci and Rodrigo spoke over a range of subjects ranging from fans buying Fauci bobbleheads and Fauci prayer candles to Rodrigo explaining to Dr Fauci the meaning of #ManCrushMonday.
For the uninitiated, Man Crush Monday is a social media trend where users post pictures of attractive or admirable men on Mondays and express their affection for them.
Dr Fauci even shared a trivia about the best concert that he had ever attended in his life.
He told Rodrigo that she would faint if he told her that the greatest concert he had ever been to was back in the late 1950s at the Paramount Theatre in New York City. 
"It was a Motown concert with The Temptations, The Four Tops. I am sorry. I am a really old guy," Dr Fauci said.
Last Updated Jul 16, 2021, 8:14 PM IST