'We're just waiting': Israeli shares heart-wrenching story of father missing since Hamas attacks (WATCH)
A heart-wrenching account of an Ashkelon resident, Ilan Kimenfeld, whose father went missing during the Hamas attacks, shedding light on the painful uncertainty and anguish faced by families affected by the conflict.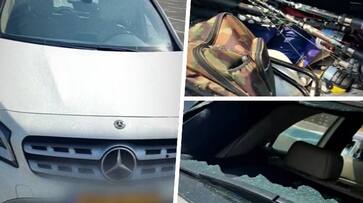 As the sun rose on October 7, residents of Ashkelon in Israel awoke to a cacophony of sirens blaring through the air. The peaceful morning routine was shattered as the piercing sounds reverberated throughout the city, signaling the start of a day that would change lives forever. Among those deeply affected was Ilan Kimenfeld, who is currently grappling with the anguish of not knowing the whereabouts of his father, who went missing during the devastating Hamas attacks on that fateful day.
Also read: Israel's forensic nightmare: Identifying victims of Hamas attacks amid unprecedented brutality (WATCH)
In a heartfelt conversation, Ilan Kimenfeld shared the harrowing details of that morning and the subsequent days of uncertainty that have followed. In a video shared by the Israel Defense Forces (IDF) on X, Kimenfeld recounted, "We woke up to the sound of sirens and called him. My dad did pick up. He was on his way to the shelter. We then started seeing messages about a terrorist infiltration in Zikim. We haven't heard from him since. I'm Ilan Kimenfeld. I'm from Ashkelon and my dad has been missing since Saturday, October 7."
Ilan's father, like many in the area, had been vigilant about his safety, making his way to the shelter as the sirens wailed. However, amidst the chaos and the uncertainty, he suddenly went off the grid, leaving his family in a state of panic.
Adding to the mystery, Ilan revealed another heart-wrenching fact. "My dad and his friend went fishing. They go together every Saturday. They went fishing and never came back," Ilan explained, his voice trembling. "Another friend of theirs drove to the Zikim beach and tried to look for them. He found their car and took a video of it. You can see the car is broken and has bullet holes in it, but there was no sign of blood, and he didn't find them there."
This ominous discovery raised countless questions and stirred emotions of despair and hope in equal measure. The situation left Ilan and his family in a state of limbo, not knowing if his father and his friend were injured, captured, or worse.
Also read: Israel-Palestine War: 'It takes just 15 seconds for a Hamas missile to reach Sderot'
In the wake of their disappearance, the Kimenfeld family began a relentless search. "We went to the hospital every few hours to see if he was among the patients or the injured," Ilan said, his voice filled with emotion, "and that's it. We're just waiting. We love him, and we're worried for him."
The agonizing wait continues for Ilan Kimenfeld and countless other families affected by the recent attacks. Each passing day adds to their anguish as they hold on to the hope that their loved ones will return safely.
The story of Ilan's father serves as a stark reminder of the human toll of the ongoing conflict. In the face of such uncertainty, the people of Ashkelon, like those in many other conflict zones, persevere with resilience and strength, clinging to the hope of reuniting with their loved ones.
Also read: Hamas releases hostage video: Israeli woman abducted being nursed; IDF dubs it fake humane portrayal (WATCH)
Last Updated Oct 17, 2023, 4:53 PM IST