UAE: Firefighters put out Ajman market blaze, no casualties reported
While the fire did not cause any deaths or injuries, parts of the market completely collapsed and burned to the ground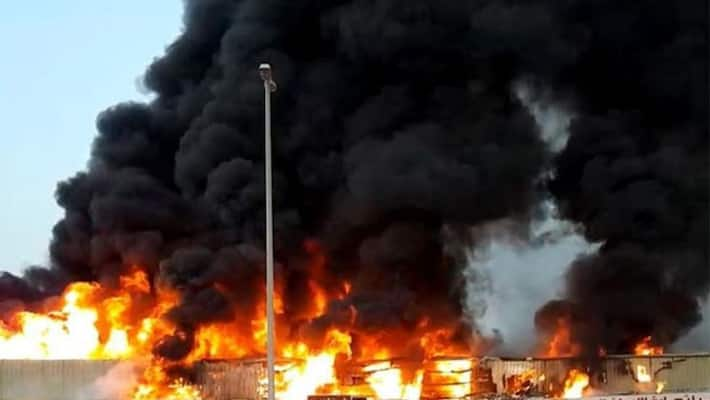 Dubai: A massive fire that broke out in a fruits and vegetables market in an Ajman souq, an emirate in the United Arab Emirates located about 30 miles from Dubai on Wednesday evening has been put out.
The blaze had been brought under control in three hours and no casualties have been reported, according to Major General Sheikh Sultan bin Abdullah Al Nuaimi, Commander-in-Chief of the Ajman Police, as per Khaleej Times.
The souq has been closed for four months due to Covid-19 safety measures.
"Civil Defence units and 25 police and ambulance vehicles responded immediately, reaching the incident site within three minutes and were able to isolate neighbouring buildings and bring the fire under control," said Sheikh Sultan Al Nuaimi.
According to official reports, the fire broke out around 6:30 pm at the Iranian souq.
Several firefighters were dispatched to the scene and workers at the neighbouring markets told reporters that flames quickly engulfed the area and sent thick plumes of black smoke into the air.
The police evacuated the building and a cooling operation was instigated at the site. Investigations are underway into the cause of the fire.
Firefighters from civil defence stations in Dubai, Sharjah and Umm Al Quwain joined the Ajman force in battling the blaze.
The Ajman civil defence had earlier urged motorists to take alternative routes. The nearby Ajman Speciality Hospital was evacuated as a precautionary measure.
"Ajman firefighters cordoned off the site and used water and foam in extinguishing the blaze which spread to several shops at the market," sources had earlier said.
The Ajman fire comes one day after a pair of explosions rocked Beirut's industrial waterfront, killing more than 100 people and injuring 4,000 others.
Last Updated Aug 6, 2020, 8:32 AM IST