Russia claims Black Sea navy HQ in Crimea hit in Ukrainian missile attack; dramatic videos go viral - WATCH
At least one Ukrainian missile has struck the headquarters of Russia's Black Sea navy in the Crimean port of Sevastopol, local governor Mikhail Razvozhayev said on Friday.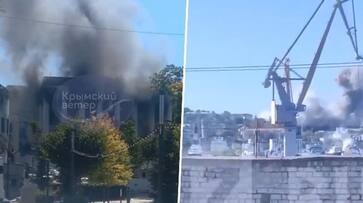 Ukraine on Friday carried out a missile strike on the headquarters of Russia's Black Sea Fleet in Crimea, as confirmed by a Russian official. Social media images and videos displayed significant plumes of smoke rising from Sevastopol harbour in the annexed region. "At least one Ukrainian missile has struck the headquarters of Russia's Black Sea navy in the Crimean port of Sevastopol," the Russian-appointed governor of Sevastopol, Mikhail Razvozhayev, said.
"Firefighters are taking all measures to eliminate the fire as soon as possible," Razvozhayev added without providing information regarding casualties.
Razvozhayev cautioned Sevastopol residents about the potential for another attack, urging them to remain indoors and avoid the city center. He advised those near the fleet headquarters to seek shelter upon hearing sirens. Additionally, he reported firefighters engaged in combatting a blaze at the attack site, suggesting a substantial fire.
Ukraine did not immediately claim responsibility for the missile strike, leaving the situation's origin and motivation unclear.
Reports from Sevastopol residents indicated they heard explosions in the skies and observed smoke. Images circulating on Ukrainian Telegram channels depicted smoke clouds along the seafront. The authenticity of these videos has not been independently verified by Asianet Newsable.
This attack followed a day of Russian missile and artillery strikes on various Ukrainian cities, resulting in at least five fatalities. These events unfolded as President Volodymyr Zelenskyy met with President Joe Biden and congressional leaders in Washington, where a potential $24 billion aid package for Ukraine was under consideration.
Further shelling in the southern Kherson region led to one fatality and another person injured, as reported by regional Governor Oleksandr Prokudin. The city of Kherson experienced disturbances throughout the day, with incidents including fires in a residential building and a garage.
In the Kharkiv region, Governor Oleh Synyehubov noted over 14 settlements coming under attack. An incident in Vovchansk, in the Chuguyiv district, resulted in a damaged house and a subsequent fire. Fortunately, there were no reported casualties in this incident.
Last Updated Sep 22, 2023, 5:27 PM IST