Equipped for combat! Protective gear to medial supply - Israel gears up for Gaza ground offensive (WATCH)
Israel has undertaken comprehensive preparations and procurement for a ground offensive against Hamas terrorist organisation in Gaza, ensuring logistics, equipment, and medical readiness.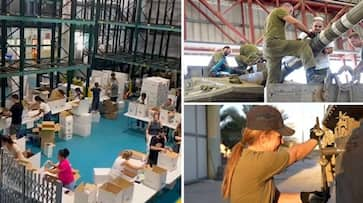 The Israel Defense Forces (IDF) have been meticulously preparing for an upcoming ground offensive in Gaza amid the ongoing war with Hamas terrorist organisation, ensuring that all military personnel are equipped with the necessary resources and support to execute their duties effectively. To streamline these preparations, the logistics and technology system has been in full swing, focusing on various key aspects.
One significant aspect of this extensive preparation is the establishment of six spatial logistics centers. These centers have been deployed to enhance the response capabilities for troops in the field. By strategically locating these logistics centers, the IDF aims to ensure that soldiers have access to essential supplies and equipment promptly during the ongoing conflict in Gaza.
Also read: Israel-Hamas war: Satellite imagery reveals IDF's preparedness for ground offensive into Gaza
Procurement processes have been expedited to acquire critical combat equipment, such as thousands of ceramic vests, survival gear, winter equipment, and more. This acceleration in procurement demonstrates the IDF's commitment to equipping its forces with state-of-the-art gear and resources.
In a proactive approach to address the needs of the troops, approximately 65,000 storm and warm suits, along with nearly 170,000 winter clothing accessories, have already been distributed. This initiative helps to ensure that soldiers are adequately prepared to face various environmental challenges, especially in colder conditions.
The IDF's medical corps has played a pivotal role in these preparations. Thousands of therapists across various units have been equipped with cutting-edge medical technology, including blood and resuscitation products. This level of medical support is crucial for the well-being of soldiers, offering advanced care and immediate response to medical emergencies.
Additionally, the Medical Corps headquarters, including the 2nd Army formation, the cavity identification unit, the blood services battalion, and the ambulance reserves, are fully ready to provide comprehensive medical assistance. The recruitment of hundreds of military personnel and the establishment of a psychological aid center are essential steps to ensure IDF servicemen receive the best emotional and psychological support.
Also read: Israel's dramatic operation: 20 wanted Hamas terrorists arrested, 12 eliminated in Nur Shams camp (WATCH)
Another development is the activation of a mobile intensive care capacity based on armored vehicles, a significant advancement in providing immediate medical care to soldiers in various operational settings.
The IDF's food and supply system has also been strategically positioned throughout the country. Soldiers in the field can expect a tailored food response to meet their nutritional requirements. This ensures that troops are well-fed and energized for their tasks.
In the words of Major General Michel Janko, head of the technology and logistics department, the IDF's logistics and technology systems work tirelessly to ensure that every fighter has the necessary equipment for their missions. From protective gear to medical supplies, the logistical effort will not waver but intensify as the maneuver unfolds.
These meticulous preparations underscore the IDF's commitment to the safety, well-being, and efficiency of its forces as they engage in critical operations. The readiness of logistics, technology, and medical support systems ensures that Israel's soldiers are well-prepared to face any challenges that may arise during the ongoing war with Hamas.
Israel's Defence Minister, Yoav Gallant, visited troops on the Gaza border on Thursday, and told them, "You see Gaza now from a distance, you will soon see it from inside. The command will come."
"I am tasked with leading us to victory," Gallant told the soldiers. "We will be precise and forceful, and we will keep going until we fulfil our mission."
Following Gallant's visit, Israel Prime Minister Benjamin Netanyahu broadcasted a video of himself with troops near the border. "We will win with all our strength. The entire people of Israel stand behind you, and we will strike hard against our enemies to achieve victory," he told the soldiers.
Also read: Israel cites Hamas threat to temporarily shut down foreign news channels; starts with Al Jazeera
The conflict escalated on October 7 when Hamas' military wing, the Izz al-Din al-Qassam Brigades, initiated a comprehensive attack named "Al-Aqsa Flood." Thousands of rockets were launched from Gaza into Israel, while armed groups entered settlements in the region. The Israeli army responded with airstrikes on the Gaza Strip.
The Israeli attacks have resulted in significant casualties. In Israel, 1405 individuals, including 304 soldiers, were reported killed, with 3,968 people wounded. In Gaza, the Palestinian Ministry of Health recorded 3,478 deaths and more than 12,000 injuries. In the occupied West Bank, 66 Palestinians were killed, and about 1,300 people were injured in attacks by Israeli forces and Jewish settlers.
Last Updated Oct 20, 2023, 6:52 PM IST