Joe Biden's spokesman stuns reporter on Gaza deaths, says what's harsh is Hamas using people as human shields
White House Spokesperson John Kirby attributed the violence to Hamas, refuting the claim that Biden's description was "harsh" and highlighting the use of human shields and hostage-taking by Hamas, as well as the impact on civilians in Gaza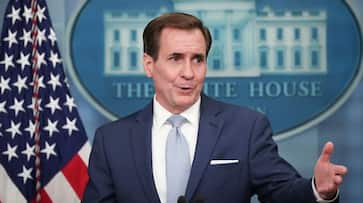 John Kirby, the spokesperson for the United States National Security Council Coordinator for Strategic Communications, response to a reporter's comment during a White House press briefing has gone viral on social media. The reporter had described President Joe Biden's characterization of innocent casualties in Gaza as the "price of war" as "harsh." 
Kirby, in his response, attributed the violence in the region to Hamas, saying, "What's harsh is the way Hamas is using people as human shields. What's harsh is taking a couple of hundred hostages and leaving families anxiously waiting and worrying to figure out where their loved ones are. What's harsh is dropping in on a music festival and slaughtering a bunch of young people just trying to enjoy an afternoon." He went on to emphasize the brutality and ugliness of war, acknowledging civilian casualties as a tragedy and expressing a desire for Gazans to be allowed to leave Gaza, which is hindered by Hamas.
The remarks came even As fighting in the Gaza Strip enters its 21st day following a surprise attack by Hamas on Israel. The situation continues to remain dire. The October 7 attack resulted in the loss of at least 1,400 lives. In response, Israel's retaliatory bombardments have further escalated the death toll, with Gaza's health ministry reporting the loss of over 7,000 Palestinian lives.
The United Nations has issued a stark warning, stating that nowhere in Gaza is safe due to Israel's intensified bombardments, indicating preparations for a potential ground offensive. Since the initial Hamas attack, Israel has blocked normal supply routes for water, food, and essential goods to Gaza, exacerbating the humanitarian crisis.
Kirby also stated that the United States will retaliate on its own terms and in its own way in response to a recent series of attacks believed to be orchestrated by Iranian-backed groups against US military personnel stationed in the Middle East. This unequivocal message follows President Joe Biden's warning to Iran's Ayatollah Ali Khamenei, conveying that the US would take action if Iran or its proxies continued to target US troops.
In the midst of these developments, Israel has reportedly informed Qatari intermediaries that they are willing to make concessions in exchange for the release of a significant number of hostages from Gaza. However, the specific details of what Israel is prepared to offer have not been disclosed yet.
It's worth noting that Israel has expressed concerns about providing fuel to Gaza due to potential use by Hamas. Israel's official stance remains that the hostages should be released unconditionally, and it remains uncertain if they made any concessions for the release of the first four hostages in the past week.
Last Updated Oct 27, 2023, 7:58 AM IST