Israel takes out another top Hamas leader, North Khan Yunis sector battalion commander killed
Taysir Mubasher was killed in an airstrike based on intelligence information from Amman and Israeli Security Agency Shin Bet. He was the commander of the terrorist organization's naval force and held several positions in the munitions production system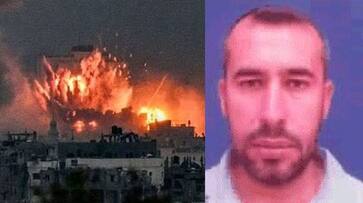 The Israeli Defence Forces have dealt yet another blow to the Palestinian terrorist outfit with the elimination of the outfit's commander of the North Khan Yunis sector battalion. Taysir Mubasher was killed in an airstrike based on intelligence information from the Israeli Air Force and Israeli Security Agency Shin Bet. Giving out a dossier of the slain Hamas terrorist, the IDF said that Mubasher served as the commander of the terrorist organization's naval force and held several positions in the munitions production system. He had extensive military and command experience as an attack coordinator. 
Mubasher was also considered close to the seniors of the terrorist organization, with an emphasis on Mohammed Deif, the supreme commander of the military arm.
According to Israeli officials, Mubasher was responsible for a number of murderous attacks against IDF soldiers and Israeli citizens over the years, including the attack on a high school in March 2002, in which five students were killed and many others were injured.
"Also, following intelligence information, it appears that he produced the explosives that blew up the tunnel at the Orhan outpost in June 2004, in which an IDF soldier identified as Sgt Roi Nissim was killed and others were injured," the Israeli Air Force said in a post, adding that the Hamas terrorist also directed the attack at the Vared outpost in June 2003, and involved in the infiltration attack on Zikim's beaches during the 'Tzuk Eitan' operation.
Israeli forces conducted an overnight operation in the occupied West Bank and encountered armed Palestinians who fired upon them and hurled explosive devices. In response, the Israeli military targeted the group with a drone strike, resulting in the reported deaths of two Palestinians.
Additionally, the Israeli military has called upon Gaza Strip residents to provide actionable information regarding the locations where Hamas may be holding Israeli hostages.
Israeli forces reported that armed Palestinians in the Jenin refugee camp in the northern West Bank engaged in firing at and throwing explosive devices toward their positions. In response, the military used a drone to target them, with successful hits identified. Concurrently, the Israeli military has called upon residents of the Gaza Strip to provide valuable information regarding the locations where Hamas may be holding Israeli hostages.
Last Updated Oct 25, 2023, 5:01 PM IST