Israel-Hamas war: As IDF contemplates Gaza ground invasion, complex challenges and regional concerns emerge
Amid ongoing war with Hamas terrorist group, Israel contemplates a risky ground invasion of Gaza in response to Hamas attacks, facing complex challenges and regional ramifications.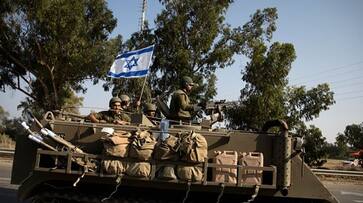 Israeli forces are amassing for what appears to be an imminent ground invasion of Gaza. This move is driven by public and national security demands for retaliation against Hamas terrorists' attacks that resulted in over 1,000 Israeli casualties over the weekend. However, this ground invasion is a complex and perilous undertaking due to Gaza's densely populated environment, intricate underground tunnel networks, and the potential risks to hostages, including Israelis, Americans, and others.
"The problem is that it's basically house-to-house fighting once you get into Gaza. And so it could be a heavy price," former US Defense Secretary and CIA Director Leon Panetta said Tuesday on Bloomberg Television's "Balance of Power." "But on the other hand, I think it's very clear that Israel has made the decision that they have got to crush Hamas in Gaza."
An invasion is expected to result in significant casualties on both sides and could pose difficulties for Israel in devising a clear exit strategy. Moreover, it has the potential to trigger broader regional ramifications, potentially endangering Israel's fragile diplomatic ties with its Arab neighbors and escalating the conflict into a regional war.
Also read: 'It is sickening...' TV news correspondent defends reporting on infant beheadings by Hamas
The aftermath of such an invasion could resemble the 2004 battle for Fallujah in Iraq, characterized by intense street-to-street fighting. Resistance in Gaza might prove formidable, especially if neighboring countries provide reinforcements. While Israel has not officially announced a ground invasion, Prime Minister Benjamin Netanyahu has vowed that "what we will do to our enemies in the coming days will reverberate with them for generations."
Recent developments on the ground support the notion that Israel is preparing for a major operation. They have initiated air, land, and sea bombardments on Gaza, established military bases near the Gaza Strip to accommodate a substantial number of soldiers, and mobilized the most significant number of reservists in its history, totaling 300,000.
"Israel is going to respond very severely and aggressively and there will be more loss of life," Richard Hecht, a spokesman for the Israeli military, told journalists Tuesday.
The limitations of aerial warfare in Gaza, particularly the inability to neutralize tunnels, underground weapon caches, and smuggling routes, have contributed to the belief that a ground invasion is increasingly likely. Airstrikes alone are insufficient to eradicate these underground threats.
"At some point they're going to have to go in," said Keith Alexander, a retired four-star US Army general who was director of the National Security Agency. "They can do limited operations," he said, "but that's a fairly big area to occupy and a lot of people to cover."
Also read: Explained: What is Operation Ajay? India's strategy to bring home stranded citizens in Israel
Street-to-street fighting in densely populated Gaza would likely result in substantial civilian casualties, raising concerns about international public opinion and potential political fallout in Arab states. 
"The longer the occupation lasts, the more ebbing of support that you'll see for Israel and the more pressure you'll see on Arab states from their publics," said William Usher, a former Senior Intelligence Service officer at the Central Intelligence Agency who specializes in the Middle East. "This has the potential to devolve into a political and PR disaster."
Additionally, the ongoing presence of hostages taken by Hamas complicates the situation. The fate of these hostages remains uncertain, and Hamas has threatened to harm them in response to Israeli strikes on civilian homes.
There is a genuine risk of escalation, as evidenced by rocket attacks from Lebanon. This raises the possibility of a multifront war and the potential for the conflict to expand into a broader regional crisis.
Another looming concern is the potential involvement of Iran, which has expressed strong condemnation of Israel's actions. "The massacre and mass killing of the people of Gaza will bring a greater calamity" on Israel, Iran's Supreme Leader Ali Khamenei said at a ceremony on Tuesday. The United States has cautioned Iran against intervention and has deployed a carrier strike group to deter Tehran.
Also read: Shani Louk, German-Israeli woman who was paraded half-naked in Gaza Strip, is 'alive'
Finally, the aftermath of an invasion presents significant challenges. There is no guarantee of a lasting political solution to accompany military action, and past occupations have been discontinued due to the high costs and complexities involved.
"The end will be when they accept an arrangement in which they give up any idea of carrying out terror attacks in the future," Yossi Kuperwasser, a former top Israeli military intelligence official, said of the terrorists. "After the Israeli population understood what it means to live next to Hamas, they are ready to pay almost any price in order to stop living next to Hamas."
Last Updated Oct 12, 2023, 1:01 PM IST