Hong Kong finally votes after months of unrest and protests
Voting is underway in local elections seen as a test for the pro-Beijing govt after nearly half a year of demonstrations.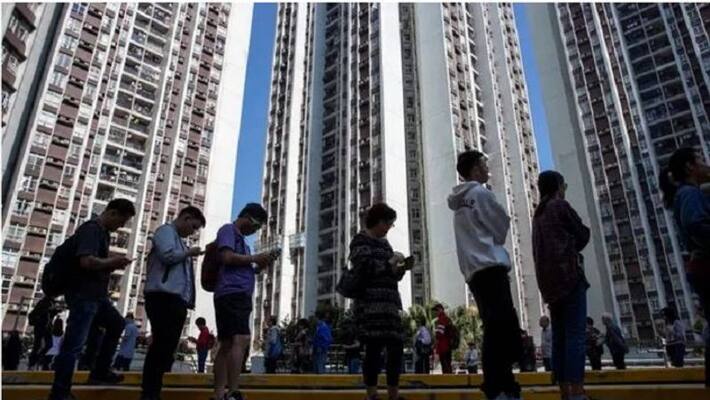 Hong Kong: Voters thronged poll booths in Hong Kong for the highly anticipated local elections which is seen as a barometer of public opinion after nearly six months of increasingly violent protests that have polarised the Chinese territory.
Before daybreak on Sunday, long queues began to form around the city's neighbourhoods as a mix of young and old voters waited for the polls, the first since political unrest erupted in June.
In the working-class neighbourhood of Yau Ma Tei, a regular scene of clashes between police and demonstrators, no one waiting in line wore black, surgical masks or chanted slogans - all hallmarks of the pro-democracy protest movement.
The queue was quiet and orderly as voters ate breakfast in line and scrolled through their phones. Small squads of riot police were seen mingling around.
"I would like to say 'no' to the government, to what they have done these past few months," said Patrick Yeung, a 33-year-old IT worker who came early to vote, anticipating long lines.
"It makes me very angry, (Chief Executive) Carrie Lam just doesn't listen to Hong Kong. We've come out so many times and they don't listen and make this situation worse."
By 3:30 pm local time, more than 1.9 million people had cast their ballots in the city's only relatively free election, surpassing the total number of over 1.4 million voters who turned out in the previous local elections four years ago.
Polling stations opened at 7.30am on Sunday (23:30 GMT on Saturday) and will close at 10.30pm (14:30 GMT). Results are expected either late on Sunday or Monday morning.
A record 4.1 million people, including 400,000 new voters, have signed up to cast ballots in the poll that will see all 452 seats across Hong Kong's 18 districts contested. 
Last Updated Nov 24, 2019, 4:30 PM IST