Highway stretch in California named after Indian-origin cop Ronil Singh who was shot dead in 2018
A stretch of highway in California has been dedicated to Indian-origin police officer Corporal Ronil Singh, who was tragically shot and killed during a traffic stop in 2018.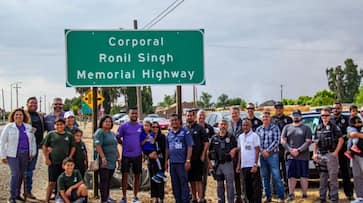 A portion of a California highway has been dedicated in honour of Ronil Singh, a 33-year-old police officer of Indian origin who tragically lost his life during a traffic stop in 2018. This heartfelt tribute, known as the "Corporal Ronil Singh Memorial Highway," is located on Highway 33 in Newman and was unveiled at a ceremony on September 3. The event was attended by Ronil Singh's family, colleagues, and fellow officers.
Assemblyman Juan Alanis captured the solemn moment on social media, emphasizing the significance of the occasion. He wrote, "Today the community came together to honor the memory of Cpl. Ronil Singh, who was tragically killed in the line of duty in December 2018. The memorial highway sign was unveiled today and will be displayed on Highway 33 and Stuhr Road."
Touchingly, Ronil Singh's son Arnav, who was just five months old when his father was taken from him, expressed his love on the back of the signboard with the words, "Love you Papa."
Senator Marie Alvarado-Gil took to Facebook to recognize the fulfillment of a promise made to the Newman community. "Today, a promise that was made has finally been brought to life. The Newman community honoured the late Corporal Singh for his dedication and commitment to putting his life on the line for the safety of others...Corporal Ronil Singh will always be a hero," she wrote.
Notably, Corporal Ronil "Ron" Singh met a tragic end during a routine traffic stop in 2018. He was fatally shot by an illegal immigrant named Gustavo Perez Arriaga, who was attempting to flee to Mexico. Multiple law enforcement agencies responded to the scene, but tragically, Singh succumbed to his gunshot wounds.
In 2019, former US President Donald Trump paid tribute to Corporal Singh, referring to him as a "national hero." He personally spoke to Singh's wife and colleagues, expressing the nation's sorrow over the cold-blooded murder of this young officer by an "illegal alien."
Last Updated Sep 5, 2023, 5:33 PM IST