G20 Summit: Italy signals exit from China's Belt and Road Initiative
Italian PM Giorgia Meloni, has reportedly signalled Italy's intent to withdraw from the Chinese Belt and Road Initiative during a private discussion with Chinese Premier Li Qiang at the G20 summit held in India. This decision, officially communicated in 2019, has posed diplomatic challenges for Meloni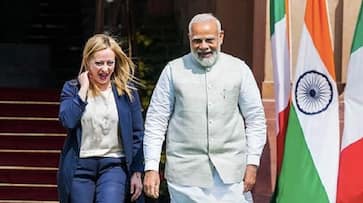 Italian Prime Minister Giorgia Meloni reportedly conveyed Italy's intention to withdraw from the Chinese Belt and Road Initiative during a private meeting with Chinese Premier Li Qiang on the sidelines of the Group of 20 summit held in India. The Belt and Road Initiative, a signature project of Chinese President Xi Jinping, has been a focal point in Italy's diplomatic relations with both China and the United States.
The decision to exit this global infrastructure pact, which Italy officially joined in 2019, has been a complex one for Prime Minister Meloni. She has been cautious in determining how to communicate this decision to Beijing due to concerns about potential trade retaliation. Earlier this year, reports indicated that Italy had informed its allies about its intention to withdraw from the initiative. However, Meloni has been grappling with the challenge of delivering this news to China while minimizing the risk of adverse consequences.
In response to the situation, Giorgia Meloni has expressed her plans to visit China in the near future. This decision comes amidst the sensitivity of the matter, especially considering the warning from China's ambassador to Italy about potential "negative consequences" if Italy were to withdraw from the agreement. The Italian Prime Minister seeks to balance her nation's interests and international relationships amid this pivotal decision.
What is Belt and Road Initiative?
The Belt and Road Initiative (BRI), also known as the One Belt, One Road (OBOR) initiative, is a vast and ambitious infrastructure and economic development project launched by China in 2013. The initiative is named after the "Silk Road," an ancient network of trade routes that connected China to the Mediterranean and other parts of Asia, Europe, and Africa. 
The BRI aims to revive and expand these historical trade routes by creating a network of infrastructure projects, including roads, railways, ports, pipelines, and digital connectivity, across Asia, Europe, Africa, and beyond.
The Belt and Road Initiative has garnered both support and criticism. Supporters argue that it can stimulate economic growth, improve infrastructure, and enhance trade and connectivity among participating countries. Critics express concerns about debt sustainability, environmental impact, transparency, and China's geopolitical motivations, viewing the initiative as a means for China to extend its influence globally.
Since its launch, the BRI has seen varying degrees of participation from countries, with some nations embracing the initiative and others being more cautious. The initiative has also evolved over time, with adjustments and refinements to address some of the concerns raised by critics. It continues to be a significant focus of China's foreign policy and economic strategy on the global stage.
Last Updated Sep 10, 2023, 4:13 PM IST