Fighter jet crash at Argentina airshow claims lives of 2 pilots (WATCH)
During an air show in Argentina, a fighter jet crash claims two pilots' lives. The Soviet-era L29 Dolphin jet crashed and caught fire during aerobatics, shocking spectators. The tragic incident occurred close to the audience, prompting condolences from organizers and the local community.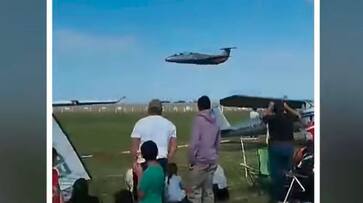 A tragic incident occurred during an air show in Argentina as a fighter jet crashed and burst into flames, claiming the lives of two pilots. The fatal crash occurred during an aerial performance in Villa Canas, Santa Fe Province, Argentina, Spanish media reported.
Pilots Gaston Vanucci and Nicolas Scares, operating the fighter jet, tragically lost their lives in the crash, succumbing before the rescue team could reach the scene. The jet had been performing aerial stunts as part of the air show in Banangal prior to the devastating incident.

Legendary MiG-21 Bison fighter jets bid adieu for Indian Air Force with final flight; netizens react
Witnesses described a harrowing scene where the aircraft, a Soviet-era L29 Dolphin military training jet, plummeted and caught fire moments after thrilling spectators with its aerobatics. The crash occurred perilously close to a crowded road, just meters away from the audience.
Horacio Pereira, the fire chief of Villa Canas, noted that the plane crashed a few meters from where the public was gathered to watch the air show. The aircraft, reportedly a Russian model, tragically crashed soon after executing a turn, leaving everyone in shock.

Chinese fighter pilot's dangerous move at US B-52 over South China Sea (WATCH)
Mayor Norberto Gizzi of Villa Canas expressed surprise and concern over the abrupt descent of the aircraft during the event. The Argentine Air Club, the organizing body behind the air show, extended condolences to the pilots who lost their lives in the tragic crash.
The aircraft involved, an L-29 jet, had been the highlight of the air show, captivating audiences before the devastating turn of events. This model, a military training aircraft originating from the 1960s Cold War era, met a tragic end, casting a sombre atmosphere over the event.
Last Updated Nov 16, 2023, 1:26 PM IST