Faces of Israeli hostages projected on Jerusalem walls, candle-light vigil marks 1 month since Hamas attack
Marking one month since the horrifying Hamas attack, a special projection of the faces of the 240 Israeli hostages in Hamas' captivity were projected outside of Jaffa gate during a special ceremony at the Western Wall in the Old City in Jerusalem on Monday night.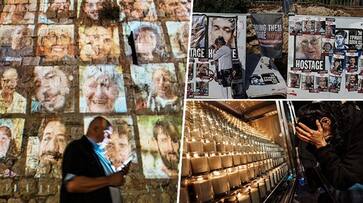 In the full-scale war between Israel and Hamas terrorists that began a month ago, over 10,000 lives have been lost, with the majority being Palestinian civilians. The Israeli armed forces have been relentlessly targeting Gaza since the surprise Hamas attack on Israel on October 7, with the goal of eliminating the Palestinian terrorist group. There are growing international calls for a humanitarian ceasefire to allow residents in Gaza to escape the warzone and to deliver much-needed aid to the isolated region, which is running low on essential resources. Additionally, Hamas is still holding over 200 Israeli citizens hostage following the barbaric attack on October 7.
Also read: One month later: How Gaza war has reshaped reality for Israelis, Palestinians as threat of WWIII looms
Marking one month since the horrifying Hamas attack, which forced Israel to respond with air strikes and a ground assault, a special projection of the faces of the 240 Israeli hostages in Hamas' captivity were projected outside of Jaffa gate during a special ceremony at the Western Wall in the Old City in Jerusalem on Monday night. Meanwhile, several people gathered in the Old City to mourn and honour the death of 1,400 Israelis in the war so far and held a sombre candle-light vigil. Pictures of the special ceremony in Jerusalem show several men, women and children weeping even as the war between Israel and Hamas rages on.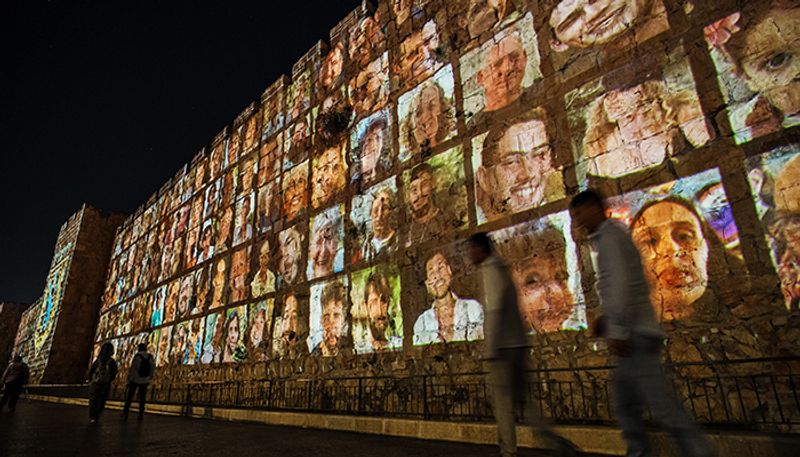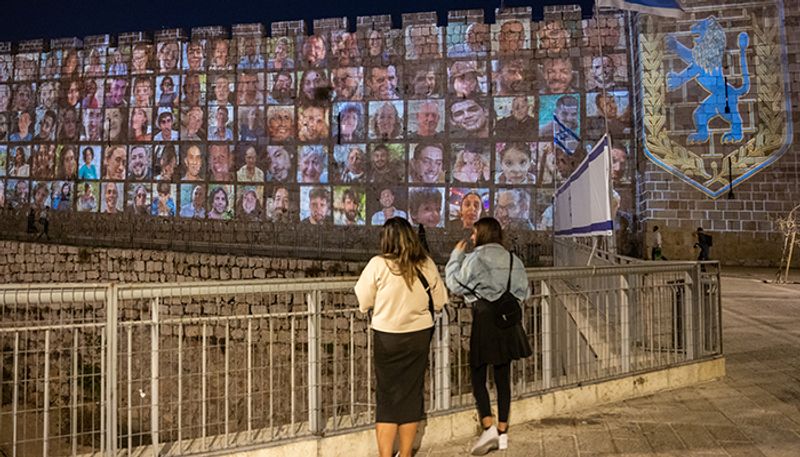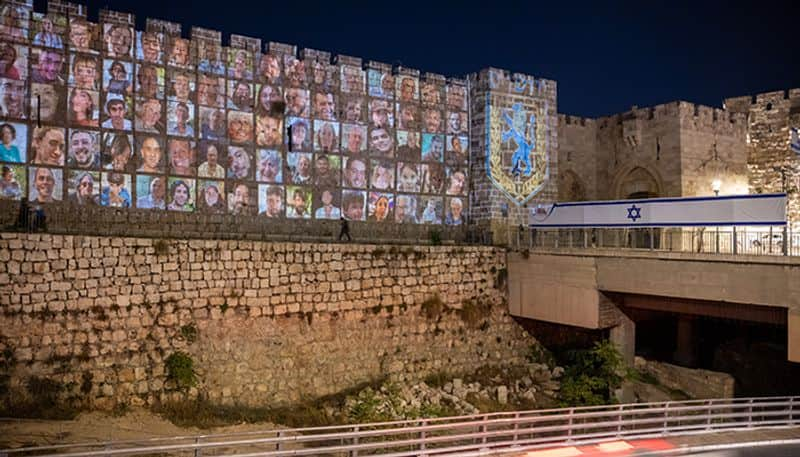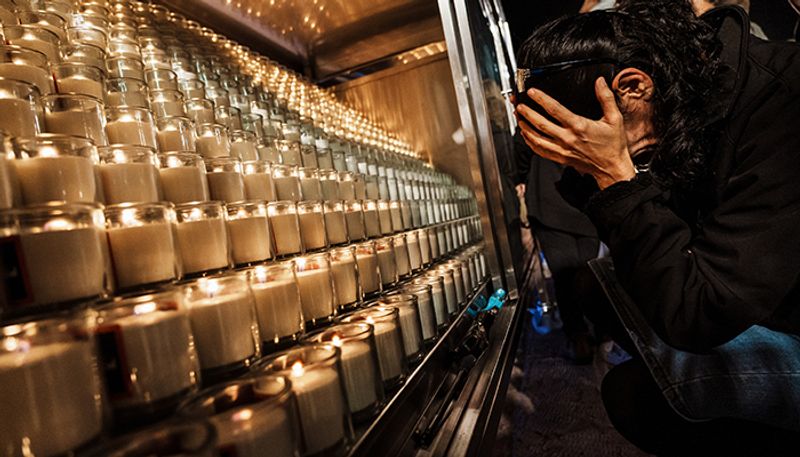 At day break on October 7, 2023, Hamas launched 5,000 rockets in a span of 20 minutes towards Israel and dozens of operatives stormed across from Gaza and struck kibbutzim and southern Israeli areas. Israel, once highly regarded for its military and intelligence capabilities, faced a drastic blow to its reputation following the attacks and was deeply scarred as graphic images of charred and mutilated bodies drew parallels to the Holocaust's horrors. Meanwhile, the abduction of over 240 individuals by Hamas terrorists continues to provoke political and emotional unrest.
Israel swiftly responded by launching airstrikes on Gaza, while its forces engaged in combat with Hamas fighters who remained within the country's borders. On October 8, Israel formally declared war on the Palestinian terrorist group, positioning tanks and personnel carriers near the border in preparation for a significant military operation. What followed was a brutal war between Israel and Hamas, which have been marred by apprehensions about the conflict, leading to speculation of World War III.
The Israeli military separated northern Gaza from the rest of the besieged territory and carried out extensive airstrikes on Monday. This was part of their preparations for anticipated ground clashes with Hamas militants in Gaza's largest city, marking a potentially more intense and deadly phase in the month-long conflict.
The ongoing conflict has escalated to become the deadliest Israeli-Palestinian violence in the 75-year history of Israel. Israel remains committed to its goal of removing Hamas from power and dismantling its military capabilities, with no resolution in sight.
Also read: Netanyahu offers 'real future' to Palestinians while Gaza death toll crosses 10000
As the conflict transitions to urban warfare, the anticipated casualties are expected to notably increase. Reports from Israeli media suggest that troops are on the verge of entering Gaza City, where Palestinian terrorists, having prepared for years, are poised to engage in street-to-street combat, utilizing an extensive network of tunnels and potentially launching surprise attacks.
"We're closing in on them," said Lt. Col. Richard Hecht, an Israeli military spokesperson. "We've completed our encirclement, separating Hamas strongholds in the north from the south."
Since the onset of the conflict, approximately 70 percent of Gaza's 2.3 million inhabitants have evacuated their residences. Scarce resources, including food, medicine, fuel, and water, are depleting rapidly, leading to overcrowding in UN-managed schools serving as shelters. Numerous individuals are compelled to sleep outdoors on the streets. Additionally, there have been intermittent territory-wide disruptions in mobile phone and internet services, marking the third outage since the war's commencement. However, service was gradually reinstated on Monday.
The situation involving US President Joe Biden's call with Israeli Prime Minister Benjamin Netanyahu highlighted the discussion on the necessity for humanitarian pauses. However, there was no specific agreement reached, according to the White House. Efforts were made to seek lulls in the conflict to aid in delivering humanitarian assistance and to negotiate the release of the estimated 240 hostages held by Hamas following their raid.
Following several days of intense diplomatic efforts in the Middle East, US Secretary of State Antony Blinken concluded his tour on Monday, expressing that securing a pause, negotiating the hostages' release, and planning for a post-Hamas Gaza were still ongoing efforts. Later in an interview with ABC News, Netanyahu suggested a willingness to consider "little pauses." It remained uncertain whether any form of a smaller cessation had been agreed upon, or if the US found the scope of the Israeli commitment satisfactory. Additionally, Netanyahu emphasized that there would be no general cease-fire in Gaza without the release of the hostages.
The war has also stoked wider tensions, with Israel and Lebanon's Hezbollah militant group trading fire along the border. 
Last Updated Nov 7, 2023, 12:26 PM IST