Explained: How pro-Khalistan elements in Canada lure vulnerable Punjab youth to build separatist network
This article exposes how pro-Khalistan elements in Canada are exploiting vulnerable youth from Punjab, sponsoring their visas for low-skilled jobs, and using them to promote separatism and engage in anti-India activities, all while Canadian agencies appear complacent in addressing the issue.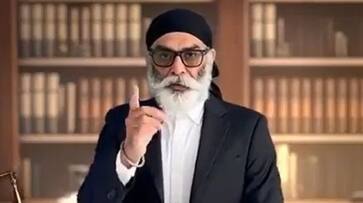 Indian intelligence sources have uncovered a disturbing pattern of pro-Khalistan elements in Canada sponsoring visas for young individuals from Punjab, luring them with medium-skilled job opportunities, including religious duties in gurdwaras controlled by these elements. According to a TOI report, quoting intelligence sources, this exploitation extends to offering shelter and low-scale jobs, often using gurdwara resources, to sustain illegal immigrants and Indian students. These vulnerable youths are subsequently drawn into the separatist movement, used to organize anti-India protests, and participate in radical-religious congregations within Canada.
Also read: WATCH: Pro-Khalistanis spit, smack shoe on PM Modi's effigy; burn tricolour outside Toronto's Indian consulate
Quoting an intelligence officer, the report added that young individuals, initially brought in for professions such as plumbing or truck driving, are also assigned religious roles as sewadars, pathis, and ragis in over 30 gurdwaras controlled by pro-Khalistan elements across Canadian cities like Surrey, Brampton, and Edmonton. Once within their grasp, these youths are said to become susceptible to radicalization and involvement in anti-India activities.
The report further stated that the Shiromani Akali Dal-Amritsar, a political party in Punjab, is alleged to charge Rs 1-2 lakh to provide a "letter" to Punjab youths, falsely claiming persecution in India on religious grounds to seek political asylum in Canada. These youths, upon reaching Canada, become targets for pro-Khalistan activities.
Human trafficking and lack of Canadian response
An officer in the Indian security agencies told TOI that this human trafficking channel operates largely unhindered under the watchful eye of Canadian agencies. It serves to compensate for the lack of support for the Khalistani cause among the local Indian diaspora. The growing influence of pro-Khalistani elements in Canadian gurdwaras has emboldened them to intimidate Hindu members of the Indian diaspora and threaten temple defacement.
Also read: India-Canada row: Lankan Minister backs New Delhi, says 'Terrorists found safe haven in Canada'
These recruited individuals, often referred to as "foot soldiers," have been utilized to garner support for the 'Khalistan Referendum' campaign led by Sikhs For Justice (SFJ), the report further noted. Pro-Khalistan elements, including Hardeep Singh Nijjar, Moninder Singh Bual, and Bhagat Singh Brar, have established connections with Punjab-based gangsters and facilitated their relocation to Canada, avoiding the use of their operatives in Punjab for terror activities.
Historical perspective
For over five decades, pro-Khalistan elements in Canada have exploited the guise of "freedom of expression" and "political advocacy" to engage in separatist and terrorist activities. The Kanishka bombing in 1985, perpetrated by Khalistani extremists, remains one of the world's significant terror attacks. Yet, due to perceived laxity in Canadian agencies, the masterminds escaped prosecution.
Links between Canada-based Khalistani extremists and terror cases in Punjab have been established in over half of the reported incidents. Recent targeted killings in Punjab have also been linked to Nijjar and his associates. Despite mounting evidence, Canadian agencies have yet to initiate inquiries or investigations against Nijjar and his associates.
Canada-based gangsters have been implicated in smuggling drugs from Pakistan into Punjab, utilizing the proceeds to fund Khalistan activities. Inter-gang rivalries among Punjabi gangsters in Canada have become increasingly common.
Also read: Khalistani terrorist Gurpatwant Singh Pannun 'wants to divide India, create many countries' - Report
Despite suspicions of Nijjar's involvement in the 2022 killing of pro-India Sikh leader Ripudaman Singh Malik, Canadian agencies have only charged local criminals, not of Indian origin, in the case.
The exploitation of vulnerable youth from Punjab and their involvement in pro-Khalistan activities in Canada underscores the pressing need for international cooperation to address the rising threat of separatism and terrorism. The complacency of Canadian agencies in responding to these challenges raises concerns about the safety and security of both Indian and Canadian communities.
Last Updated Sep 26, 2023, 1:54 PM IST