WATCH: Pro-Khalistanis spit, smack shoe on PM Modi's effigy; burn tricolour outside Toronto's Indian consulate
The article discusses the diplomatic tensions between Canada and India following protests by Canadian-Khalistani activists outside the Indian consulate in Toronto, focusing on the demonstrators' provocative actions and their implications for bilateral relations.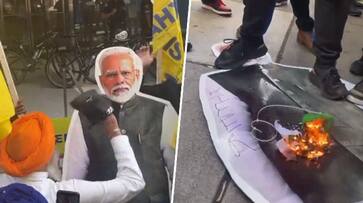 Amid a huge diplomatic row over the killing of Khalistani terrorist Hardeep Singh Nijjar, Canadian-Khalistani protesters recently demonstrated outside the Indian consulate in Toronto. The protests escalated with protesters spitting on an effigy of Indian Prime Minister Narendra Modi and even burning the Indian flag, all while Canadian police were present. Protesters - led by the members of a pro-Khalistani outfit -'Sikhs For Justice' (SFJ) - were also seen raising slogans and waving Khalistani flags. This incident has heightened tensions between the two nations and raised questions about the implications of such actions on bilateral relations.
The recent protests, orchestrated by individuals believed to have affiliations with the Khalistani movement, took a disturbing turn as they targeted symbols of Indian authority. In videos that have now gone viral on X, protesters openly displayed their anger by spitting on an effigy of PM Modi, a highly disrespectful act in Indian culture. This provocative act was followed by demonstrators burning the Indian national flag, further exacerbating the situation. One of the key demands voiced by the Canadian-Khalistani protesters is the expulsion of Indian diplomats from Canada.
These videos surfaced on social media even as Canada updated its travel advisory, asking its citizens in India to "stay vigilant and exercise caution". "In the context of recent developments in Canada and in India, there are calls for protests and some negative sentiment towards Canada on social media. Please remain vigilant and exercise caution," the Canadian government said in an updated advisory.
The protests come a week after Canadian PM Justin Trudeau sparked a massive diplomatic row between the two countries, alleging that "Indian government agents" could be behind the shooting of Nijjar. India has rejected Justin Trudeau's allegation as "absurd", stating that Canada has shared no specific information regarding its charges, flagging "politically condoned hate crimes and criminal violence" in that country.
India has leveled accusations against Canada, asserting that the country has failed to take action based on "explicit evidence of criminal activities" involving individuals residing in Canada. The National Investigation Agency (NIA) has compiled a roster of 19 fugitive Khalistani terrorists currently residing in various countries, including the UK, US, Canada, Dubai, Pakistan, and others. There are indications that the properties of these individuals may also face potential confiscation, according to reports.
Justin Trudeau asserted that Canada had previously shared "credible allegations" with India. He emphasized that these allegations had been communicated to India several weeks ago. Trudeau expressed Canada's commitment to working collaboratively with India on the matter, underscoring the importance of engaging in a constructive dialogue to address this grave issue. He made these remarks during a news conference held on Saturday.
David Cohen, a prominent US diplomat, stated that it was the "collaborative intelligence shared among the 'Five Eyes' partners that led to Justin Trudeau's public statement regarding India. Canadian Defence Minister Bill Blair emphasized the significance of the relationship with India while asserting that allegations related to the Nijjar killing should undergo a thorough investigation.
In June, 45-year-old Nijjar was fatally shot outside a gurdwara in British Columbia, Canada. He held the position of chief within the banned Khalistan Tiger Force and was regarded as one of India's most sought-after terrorists.
Last Updated Sep 26, 2023, 10:57 AM IST