'Don't hurt my children, take me instead...' Father pleads to Hamas to release his family unharmed
Doron Asher and her daughters had gone to visit family in Nir Oz near the Gaza border when Hamas militants stormed their home. A distraught Doron called her husband, Yoni, whose phone call was abruptly cut off, leaving him in agonizing uncertainty. Yoni later confirmed his family's capture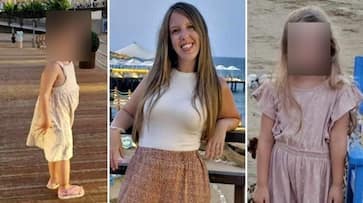 Among the many harrowing tales of kidnapping, torture, abuse and killing perpetrated by Hamas during its surprise invasion of Israel is one about an Israeli mother and her two young daughters who found themselves among over 100 civilians taken hostage by the terrorist group. Doron Asher had taken her daughters to visit their grandmother in the village of Nir Oz near the Gaza border when the Hamas militants descended upon their home, as reported by Reuters.
Terrified by the situation, Doron managed to make a distress call to her husband, Yoni, who was in central Israel at the time. Their conversation was abruptly cut off, leaving Yoni in a state of agonizing uncertainty.
"She told me the terrorists are in the house," Yoni recounted, and that was the last he heard from her.
Yoni tried to track Doron's phone, and it indicated that she was located across the border in Gaza, further fueling his concerns. His worst fears were confirmed when he came across a video on social media clearly depicting Doron and their daughters being held at gunpoint by Hamas militants, along with other hostages, and being transported away in a cart.
"I surely identified my wife, my two daughters, and my mother-in-law on some kind of a cart with terrorists of Hamas all around them," Yoni painfully recounted. "My little two girls, they are only babies, they are not even 5 years old and 3 years old. I don't know in what terms they are captive. I don't know what happened to them."
Desperate and distraught, Yoni Asher appealed to the Palestinian militia, urging them not to harm his family and even offering to exchange himself for their release. This tragic incident occurred during their visit to Yoni's mother-in-law in Nir Oz, near the Gaza border.
He passionately implored Hamas, saying, "I want to ask of Hamas, 'Don't hurt them. Don't hurt little children. Don't hurt women. If you want me instead, I'm willing to come.'"
The surprise invasion by Hamas on Saturday has led to the loss of hundreds of Israeli lives and inflicted numerous injuries, leaving a trail of devastation in its wake. Disturbing videos have emerged, depicting women of all ages being forcibly taken away on motorcycles, in cars, and loaded onto trucks and wagons, their screams echoing the horrifying reality of the situation.
Last Updated Oct 9, 2023, 1:13 PM IST