Coronavirus: US President Trump returns to White House, removes mask despite having COVID-19
Just before leaving Walter Reed, Trump announced on Twitter that he would be back on the campaign trail soon.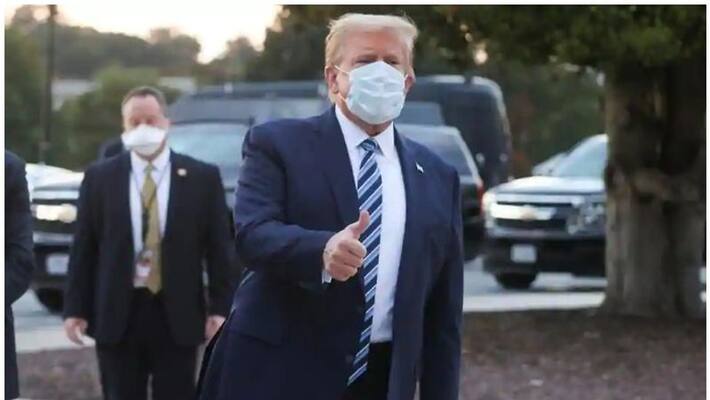 Washington DC: President Donald Trump returned to the White House on Monday, three days after he was hospitalized for coronavirus, in a made-for-television moment that was full of symbolism but also underscored lingering questions about the extent of the president's illness.
Trump, 77, looked healthy. Showing his fitness, Trump in an unusual decision climbed up the South Portico stairs, instead of the elevators, to go to his residence. He waved at reporters.
The President took off his mask for a photo-op as soon as he reached his official residence, even as physician, Sean P Conley had said earlier in the day that Trump was not "out of the woods yet".
But Conley said the medical team believed Trump was ready to leave the hospital, stressing he would have world-class medical care around the clock at the White House.
Conley said doctors were in "uncharted territory" because Trump had received certain therapies so early in the course of the illness.
In addition to First Lady Melania Trump and a number of others in Trump's circle, White House Press Secretary Kayleigh McEnany and three reporters in the White House Press Corps have tested positive for the coronavirus.
Earlier, he was discharged from the Walter Reed National Medical Center after doctors treating him found that he was fit enough to go back home.
"Will be back on the Campaign Trail soon!!! The Fake News only shows the Fake Polls," Trump said in a tweet moments before leaving Walter Reed National Medical Center in Bethesda, a Maryland suburb of Washington DC.
The President's treatment includes a drug that can cause temporary boosts in energy levels – the steroid dexamethasone, in addition to remdesivir and a cocktail of monoclonal antibodies.
The disease has killed more than 1 million people worldwide and more than 209,000 in the United States alone – the highest death toll of any country.
Last Updated Oct 6, 2020, 8:49 AM IST