Chinese agents killed Khalistani Hardeep Singh Nijjar as part of sinister anti-India conspiracy?
Claims of Chinese Communist Party (CCP) agents orchestrating the assassination of Khalistani terrorist Hardeep Singh Nijjar in Canada have emerged, potentially aimed at destabilizing relations between India and the West.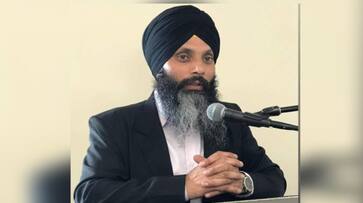 Were agents of the Chinese Communist Party (CCP) responsible for the assassination of Khalistani terrorist Hardeep Singh Nijjar in Canada? Independent blogger Jennifer Zeng suggests that the CCP may have orchestrated the killing with the aim of sowing discord between India and the Western world. Zeng, a Chinese-born human rights activist residing in the United States, based her claims on information from Chinese writer and YouTuber Lao Deng, now living in Canada.
According to Zeng's account, a clandestine meeting occurred in Seattle, USA, where a high-ranking CCP official met with agents assigned to disrupt relations between India and Western nations as part of the CCP's 'Ignition Plan'. Their alleged objective was to eliminate Nijjar, who is designated as a terrorist in India. The agents, armed with silenced firearms, meticulously executed the plan, taking care to eliminate evidence and evade capture.
Zeng asserts that the assassins intentionally adopted Indian-accented English to frame India, further implicating the CCP in the plot.
These allegations, shared in a video on social media, have yet to receive an official response from the governments of China or India. Meanwhile, Canadian Prime Minister Justin Trudeau discussed the alleged Indian involvement in Nijjar's killing with UAE President Mohamed bin Zayed Al Nahyan.
In a recent statement, Trudeau mentioned, "On the phone today, His Highness Mohammed Bin Zayed and I spoke about the current situation in Israel. We expressed our deep concern and discussed the need to protect civilian life. We also spoke about India and the importance of upholding -- and respecting -- the rule of law."
India maintains strong ties with the UAE, and Trudeau's actions are seen as an attempt to exert pressure on India to cooperate with the investigation into the assassination, despite Canada not having shared any evidence of Indian involvement.
Diplomatic relations between India and Canada have soured following Canada's expulsion of a senior Indian diplomat, alleging India's role in Nijjar's killing. India vehemently denies these claims, viewing them as unfounded and politically motivated. In response, India expelled a senior Canadian diplomat and demanded diplomatic parity between the two countries. Ongoing discussions revolve around the level of diplomatic presence in each nation, with India seeking a reduction in Canada's presence due to allegations of interference in internal matters.
Last Updated Oct 9, 2023, 9:32 AM IST