American YouTuber's interview with fake Kim Jong Un leaves internet divided - WATCH
American streamer Adin Ross stirs controversy by interviewing a fake Kim Jong Un on his live stream, which witnessed an all-time peak concurrent viewership with over 336,506 fans watching along live.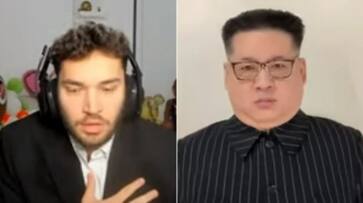 American streamer and co-owner of Kick Adin Ross initially claimed he would have North Korea's Supreme Leader, Kim Jong Un, on his live stream. However, it turned out to be a stunt to boost viewership on his YouTube channel. During a live stream, Ross interviewed a fake Kim Jong Un, drawing an audience of over 300,000 live viewers at its peak.
Days of teasing led up to the interview with the fake "Kim Jong Un," which broke viewership records for Ross. Just before the fake Kim's appearance, the broadcast saw a massive surge in viewership, with tens of thousands joining at the last minute, as reported by Dexerto.
According to Stream Charts, this event marked Ross's all-time peak concurrent viewership, with over 333,506 fans watching live.
Dexerto revealed that Ross interviewed a professional impersonator known as Howard X, who offers personalized messages on the Cameo website. Ross also invited Andrew Tate to the stream.
The internet had mixed reactions to Ross's stunt. Some considered it an "outrageous" act, while others appreciated the creativity and humour, suggesting that Ross's editors deserved a "raise."
A YouTube user commented, "How none of us saw this coming is absolutely outrageous."
Another user wrote, "Still can't believe that people actually thought it was gonna be the actual Kim."
"This man fooled the whole internet," a third user remarked.
Meanwhile, the real Kim Jong Un recently concluded his trip to Russia and expressed his "heartfelt thanks" to President Vladimir Putin. Kim's visit to Russia's far east had raised concerns in the West that North Korea could provide weapons to Moscow for its involvement in the conflict in Ukraine.
Last Updated Sep 21, 2023, 4:49 PM IST