Afghan conflict: 2 killed, several injured over anti-Taliban protests in Jalalabad
In video footage believed to have been taken from the incident, protesters can be seen walking down the street, chanting as they wave the national flag – then suddenly there are bursts of gunfire sending the demonstrators running for their lives.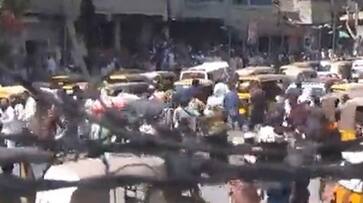 According to media reports, at least two people have been killed and 12 injured after shots fired at a protest against removal of the Afghan flag by Taliban in the eastern city of Jalalabad.
According to TOLO News, a group of locals took to the street as they demanded the restoration of the Afghan national flag in place of the Taliban flag.
Reports claimed that Taliban fighters fired at some of the demonstrators leading to at least two deaths.
The firing comes as unprecedented talks started in Kabul between the Taliban and former president Hamid Karzai and other leaders amid speculation of a "unity government".
Videos tweeted by local news agency Pajhwok Afghan News showed people carrying the national flag crossing a street. Suddenly shots ring out, followed by staccato machine gun fire. The procession stops and people start raising slogans.
"Taliban firing on protesters in Jalalabad city and beaten some video journalists," read the caption of one of the videos.
The Taliban had earlier vowed that it would not seek revenge or retribution against anyone who opposed them or anyone that worked with allied forces or the previous government.
However, many Afghans remain deeply skeptical, as thousands raced to the airport and borders to flee the country. While, many others are hiding inside their homes, fearful after prisons and armouries were emptied during the insurgents seize the country.
 
Last Updated Aug 18, 2021, 6:26 PM IST