Google unveils new Android logo, introduces new features too
With the release of Android 14 around the corner, Google is giving a facelift to the most popular mobile OS with new branding. The logo has been updated with a capital "A," which Google said makes the letter stand out more prominently against the rest of the letters.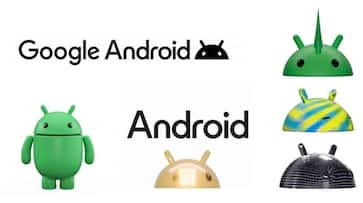 Google has relaunched Android with a fresh appearance and updates to the iconic green Android figure ahead of the stable release of Android 14. The new Android logo alludes to a fusion between the mobile platform and parent brand. Google is releasing new Android features in addition to a fresh design.
The redesigned logo now features a capital "A," which according to Google helps the letter stand out more noticeably from the other letters. The newest logo, which has "more curves" and "personality," gives the most widely used mobile operating system in the world a more modern feel. The droid, the long-standing symbol of Android, is now more three-dimensional than ever, displaying its full body rather than just its head.
Also Read | Google offers 360-degree preview of Pixel 8 Pro ahead of official launch
Since the Google I/O, where the Alphabet firm briefly unveiled the new logo while demonstrating some of the new features of the impending Android 14 operating system, Google has been teasing the new Android branding.
Also Read | WATCH: Google's latest Pixel ad hints that Apple iPhone 15 is getting USB-C
It's been almost four years since Google updated its logo and with the new one, the company is aiming for a significant visual overhaul. The new logo will start showing up on smartphones and other locations later this year, according to Google.
In addition to a new logo, Google has also redesigned its "At a Glance widget," which is a pill-shaped widget that displays weather information and provides dynamic travel updates. Additionally, the business upgraded its Wallet app, greatly simplifying the uploading of passes with barcodes. In a similar vein, Google also revealed that Zoom will be included in Android Auto.
Also Read | iPhone 15 series: Apple to ditch leather case and replace with 'FineWoven'?
Last Updated Sep 6, 2023, 1:50 PM IST