Today Lenin, tomorrow Periyar to be demolished, threatens BJP leader H Raja
Tamil Nadu BJP leader, H Raja, courted controversy by saying that it was Lenin's statue demolished in Tripura, next it will be Periyar in TN
Communist leader Lenin's statue was demolished by BJP activists in Tripura, even before the party came to power
But Periyar is revered in entire Tamil Nadu. Thus Raja is widely criticised for his Periyar comment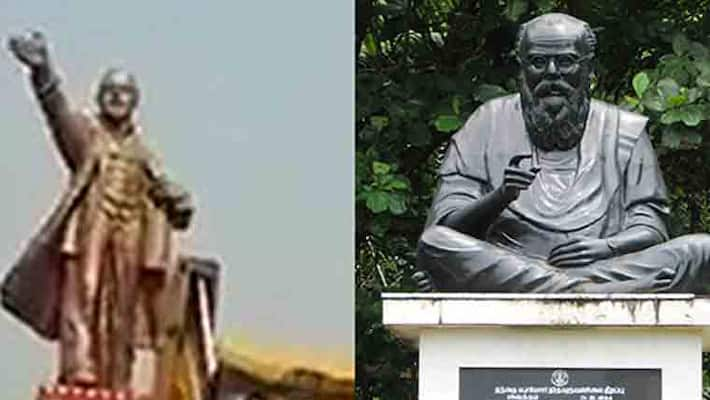 Communist leader, Lenin's statue, was demolished in Tripura, even before BJP formed the government. Soon after that, H Raja of BJP in Tamil Nadu has made a controversial statement that next is Periyar's statue that is in line.
There were comments that Lenin has nothing to do with India and thus his statue was demolished. In fact, BJP has emerged as the single largest party in Tripura, after 20-year rule of the Left government. But the government has not been formed yet, and it looks like the BJP members are showing their true colours by giving a message that any ideology that is not in accordance with theirs will not be tolerated.
Periyar EV Ramaswamy, well-known as Periyar, is revered by people of all communities and sections in Tamil Nadu. The controversial statement against Periyar has made people of Tamil Nadu angry.
Leaders have accused A Raja of instigating communal violence in Tamil Nadu. Many are of the opinion that Raja doesn't get to come in the limelight. Thus, he chose this way to pull people's attention towards him.
Either BJP is desperately trying to make inroads into Tamil Nadu or after winning Tripura, the party is overconfident of taking over Tamil Nadu too by commenting against Periyar, who is almost worshipped by everyone in the state.
Though BJP tried hard, it has not been able to make a direct entry into Tamil Nadu politics. However, there is speculation that the party has its influence on TN Chief Minister Palaniswamy and Dy CM O Paneerselvam of the AIADMK. But even these leaders would not want to take on the wrath of Periyar supporters, as they constitute most of the population in Tamil Nadu.
Who is Periyar?
EV Ramaswamy or Periyar was a social activist and politician, who started the Self-Respect Movement and formed the party Dravidar Kazhagam. He joined the Indian National Congress in 1919, but resigned in 1925 as he felt that the party was only serving the interests of the Brahmins. In 1924, Periyar toured British Malaya, Europe, and Russia, from 1929 to 1932. In 1939, he formed the Justice Party, which was renamed as Dravidar Kazhagam in 1944. The party later split and CN Annadurai formed the Dravida Munnetra Kazhagam (DMK) in 1949. Periyar also advocated for an independent Dravida Nadu and is the first to raise the slogan, 'Tamil Nadu Tamilurukae' (meaning the Tamil Nadu is for the Tamilians).
 
Last Updated Apr 4, 2018, 7:11 PM IST