Tamil Nadu Governor apologises to female journalist for patting her cheek
Tamil Nadu Governor Banwarilal Purohit had to apologise to a female journalist on Wednesday, April 18 for patting her cheek at a press conference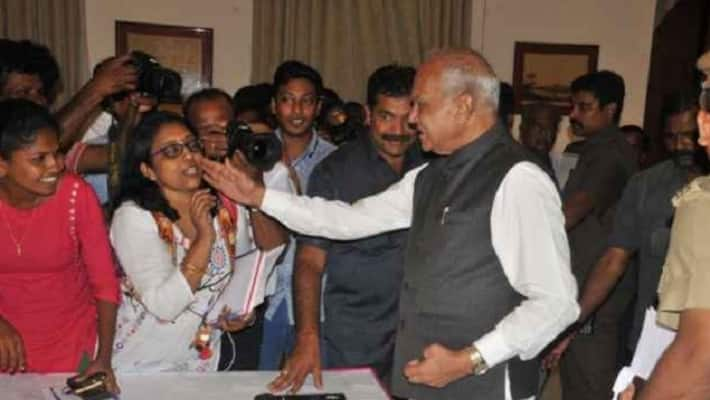 Tamil Nadu Governor Banwarilal Purohit had to apologise to a female journalist on Wednesday, April 18 for patting her cheek at a press conference, after the incident sent the journalist community fuming. It is reported that the journalist has accepted the apology but with some reservations.
Close to two-hundred journalists had signed a petition that the Tamil Nadu Governor apologise to the woman journalist, Lakshmi Subramanian of The Week, whose cheek he patted to skirt a question.
"Mr Governor, we, the journalists of Tamil Nadu, demand that you offer an unconditional apology to the journalist in question and also assure all journalists of Tamil Nadu that you will not violate their rights in the future," the letter read.
A letter released by the Tamil Nadu Governor's office read, " I have received your email dated 18.4.2018. You had asked a question when we had got up and were proceeding to leave after the close of the Press Conference. I considered that question to be a good one. Therefore, as an act of appreciation for the question that you had posed, I gave a pat on your cheek considering you to be like my granddaughter."
"It was done with affection and to express my appreciation for your performance as a journalist, since I was also a member of that profession for about 40 years. I do understand from your mail that you are feeling hurt about the incident. I wish to express my regret and my apologies to assuage your sentiments that have been hurt. I suppose you will respond through a mail of acknowledgement," it further added.
The journalist, Lakshmi Subramanian, said she accepted his apology, "even though I am not convinced about your contention that you did it to appreciate a question I asked."
Last Updated Apr 18, 2018, 2:45 PM IST