Alleged document shows Rs 5 lakh paid to Dr Balaji of Apollo Hospitals
Dr Balaji had attested Jayalalithaa's thumb impression on various documents
He had attested thumb impression on October 29 and was debited the money on November 1
The document of Rs 5 lakh allegedly being released to Dr Balaji, who attested Amma's thumb impression has come to haunt the people who treated her.
Jayalalithaa's thumb impression on important documents including the applications to file nominations for the by-elections in Thanjavur, Aravakurichi and Thiruparankundram Assembly constituencies, scheduled for polls last year on November 19, had come under the public ire.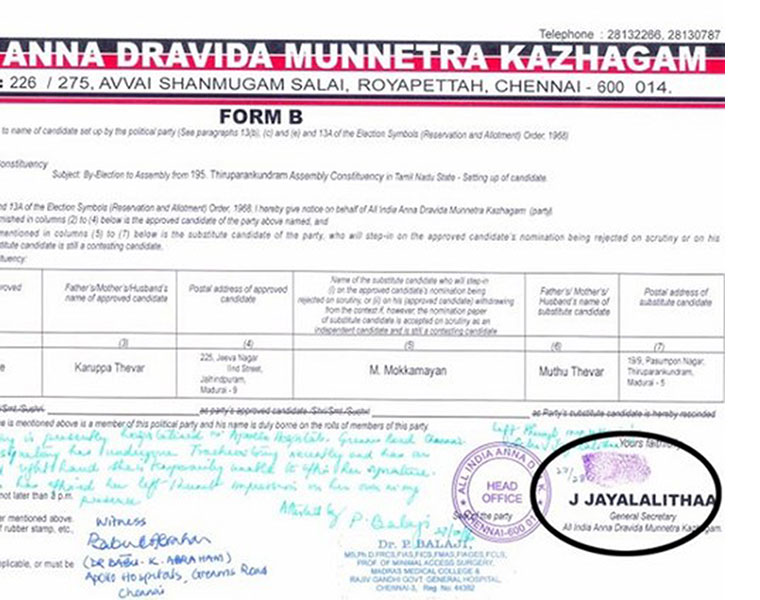 People of Tamil Nadu who held Jayalalithaa in great respect were disappointed that after she was admitted to Apollo Hospital on September 22, no one met her nor she addressed anyone. In fact, it was said that she was unable to sign the documents and there was her thumb impression on her speech copy and important documents.
The issue of Jayalalithaa's thumb impression on the B Form submitted along with nomination papers of the party candidates has surfaced again. The documents show Dr Balaji's account allegedly being credited with Rs 5 lakh on November 1.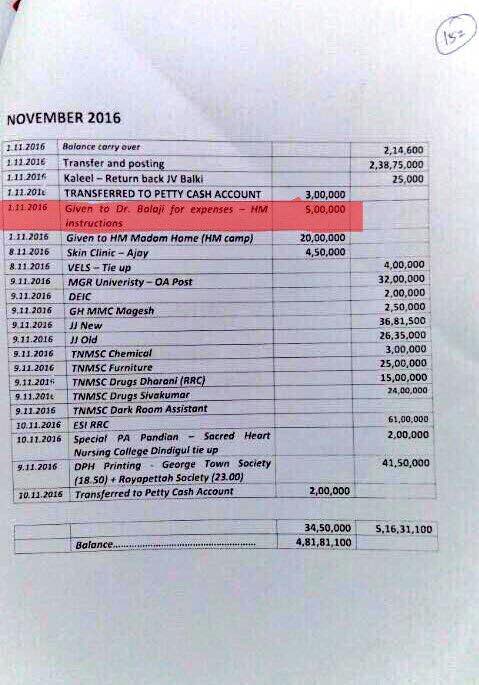 He had attested Jaya's thumb impression on October 29, the date AIADMK candidates filed their nominations in three constituencies. The AIADMK candidates submitted had thumb impression by Jayalalithaa.
A report in the Hindu, published on October 29 states that the thumb impression was attested by Dr P Balaji, Professor of Minimal Access Surgery, Madras Medical College and Dr Babu K Abraham of the Apollo Hospitals, had signed as a witness.
Dr Balaji had certified that "Since the signatory has undergone tracheostomy recently and has an inflamed right hand she is temporarily unable to affix her signature. Hence she has affixed her left thumb impression on her own in my presence," also said the Hindu report.
It is said that the thumb impression was obtained when she was in her hospital bed on Thursday evening (October 29) in the presence of Dr Balaji.