Rajinikanth at US Casino: Swamy tweets photo of Thalaiva gambling, calls him 420
BJP leader Subramanian Swamy has Tweeted a photograph of Rajinikanth gambling at a US Casino
After calling the star illiterate and fraud now, Swamy has used the term 420
Swamy had even threatened Rajinikanth from joining politics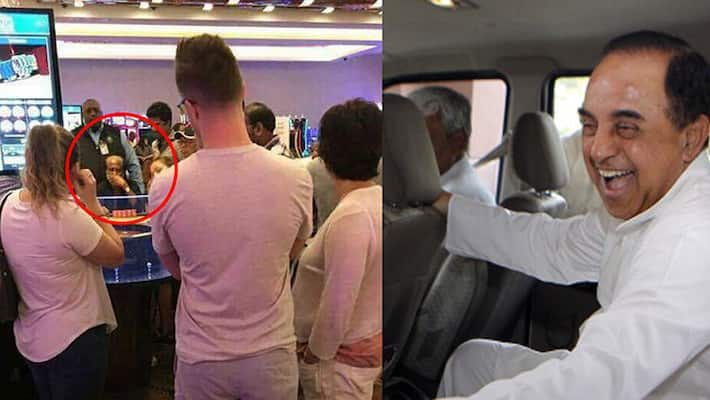 Subramanian Swamy is back, and this time he has something to say about Rajinikanth. His tweet "Wow! RK 420 in a US Casino gambling to improve his health!! ED must find out from where his $$ came from," is creating a sensation currently.
Swamy has accused Rajinikanth, who recently announced his political entry and support to NDA, of spending money on gambling in the US.
Wow! RK 420 in a US Casino gambling to improve his health!! ED must find out from where his $$ came from. pic.twitter.com/4UeUgg9yNN

— Subramanian Swamy (@Swamy39) July 5, 2017
Off late, Subramanian Swamy was not in the news for any controversial comments, or rather his comments failed to get him national attention. But he is surely in the form again after Rajinikanth's interest in floating his own political party was announced. From branding Rajini as illiterate, Subramanian Swamy has left no stones unturned to make Rajinikanth look 'unfit' for politics.
Earlier, Swamy had claimed that Rajinikanth has committed financial fraud and even threatened him of exposing him if Rajinikanth decided to enter politics.
If Subramanian Swamy has the proof that Rajinikanth has committed financial fraud, why should he wait for him to join politics? If he is a responsible leader, he should expose the fraud even if Rajinikanth doesn't join politics.
Surprisingly, reacting on this, Arjun Sampath, the pro-Hindu leader had slammed Swamy for his comments. Arjun had said, "It is pure blackmail politics. If he really has evidence of Rajinikanth committing the economic offence, let him go to the court."
After joining BJP, one has always heard Swamy making controversial comments about the leaders from other parties. However, there is not even a single example of him being hailed for any work he has done. So, is he fit to be in politics?
Coming back to the Tweet, is a superstar that poor that he cannot afford to play in a casino? Here Swamy's contention is not that Rajinikanth is gambling, but he is worried only about how did Rajini get the money.
However, Rajinikanth is yet to give any comments on the photograph of him in the casino being circulated. If Swamy is just taking a dig at Rajinikanth, we expect a befitting reply from the Thalaiva.
Last Updated Mar 31, 2018, 6:45 PM IST