OPS camp's rally in RK Nagar seems like a final nail in the coffin
Mockery of Amma's death in RK Nagar rally
Unethical manner adopted to exploit people's sentiments and Jayalalithaa's image
OPS faction's ridiculous justification is that this was a deliberate attempt to tell people Amma is no more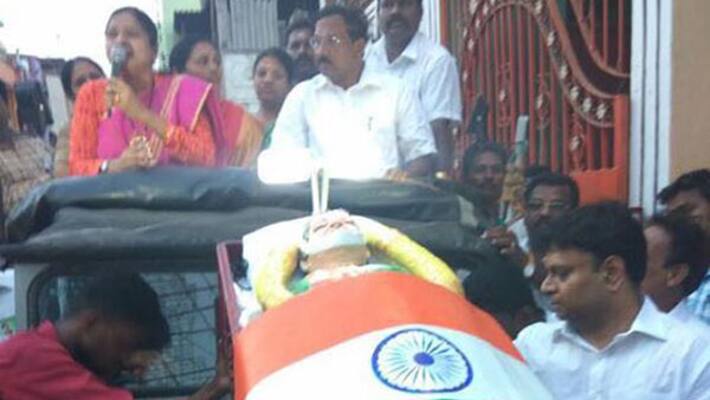 Remember the day when Amma's loyalist/former CM of Tamil Nadu O Paneerselvam was in conversation with late J Jayalalithaa's spirit at Amma's memorial on Marina beach in the beginning of February when he made dramatic revolt against Sasikala? Well, the OPS faction wants to continue to play with not just her spirit, but her very death as well.
The rally in poll-bound RK Nagar in Chennai saw a procession led by OPS camp's members including former education minister Mafoi Pandiarajan. What shocked citizens, politicians and analysts were the unethical manner in which the Puratchi Thalaivi Amma party members carried a dummy coffin with a replica of late CM J Jayalalithaa's body.
"This is definitely in bad taste. And to know that this happens in a place that carries the name of former President Radhakrishnan makes me sad," said Subramanian A, resident of Chennai. From the day that Sasikala and OPS split, Paneerselvam's party has been fighting for a probe into Jayalalithaa's death. "We wanted to drive home the point that Amma is no more. And that TTV Dinakaran's faction played with Amma's death," said KC Palaniswamy, OPS loyalist, justifying the action.
Jayalaithaa's famous dialogue comes to mind: "Makkalaal naan, makkalikaagave naan (I am here because of my people, and I live only for the cause of my people)." And, very simply, people's sentiments and emotions are exploited with immoral actions like these, almost dishonouring their God-like figure, to who they prostrated several times in respect.
"This is disgrace to her legacy," said TTV Dinakaran, Sasikala's nephew, also RK Nagar contestant from Amma party. On one hand, Amma party's men were caught with over 10 lakhs of rupees. 28 people allegedly belonging to TTV Dinakaran's faction were arrested for reportedly bribing voters. And a recent raid in an Amma party member's house by the flying squad saw women there protesting by removing their clothes. If you thought this was horrifying, a mockery of Amma's death by OPS faction just had people sick to death literally.
A Saravanan of the DMK said, "One faction is involved in bribing voters. Another is involved in playing with sentiments of voters. Either ways, this is indeed dirty politics."
Last Updated Mar 31, 2018, 7:03 PM IST