Negligent hospital staff declare newborn weighing 700 gram dead, comes alive on the way home
In a bizzare case in Dindigul, Tamil Nadu, a 700-gram newborn that was declared dead in hospital began to cry while being taken home
The heartbroken relatives were overjoyed with this and termed the girl coming back to life a 'miracle'
The incident that took place at the Government Headquarters Hospital, Dindigul. Mariya Vinitha, the wife of a coolie, bore an underweight baby on Wednesday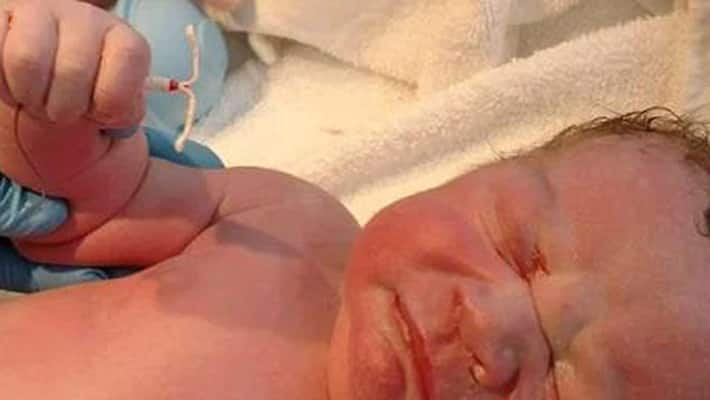 An act of negligence in a Tamil Nadu hospital almost cost a new-born baby its life.
In a bizzare case in Dindigul, Tamil Nadu, a 700-gram newborn that was declared dead in hospital began to cry while being taken home. The heartbroken relatives were overjoyed with this and termed the girl coming back to life a 'miracle'.
The New Indian Express reported the incident that took place at the Government Headquarters Hospital, Dindigul. Mariya Vinitha, the wife of a coolie, bore an underweight baby on Wednesday, October 25.
The nurses assumed the newborn girl to be dead after it lay motionless for a while. The nurses reportedly told Vinitha's relatives that low birth weight of the girl could be the reason for her death. The baby weighed only 700 grams.
After explaining the situation to Vinitha's relatives, the nurses rushed away to check on another pregnant woman who was suffering from excessive bleeding. Vinitha's relatives took the 'dead' girl home to perform the last rites.
However, on their way home, the baby began to cry. Elated, they rushed back to the hospital, where the doctors admitted her to the Intensive Care Unit.
The joint director of the hospital, Dr Malathi, conducted an inquiry into the incident. They started investigations on the nurses who declared the baby dead and also are trying to find out how Vinitha's relatives were allowed to take the baby away without following due procedure.
On Thursday, the condition of the baby turned critical and she was referred to the Government Rajaji Hospital in Madurai.
Last Updated Mar 31, 2018, 7:05 PM IST