MLAs for sale stings TN: Evicted DMK leaders protest outside Assembly
The Speaker of the Tamil Nadu Assembly asked the Marshals to take Stalin away.
Evicted Stalin and other legislators staged a protest outside the Assembly.
AIADMK leaders have asked party members not to speak to journalists.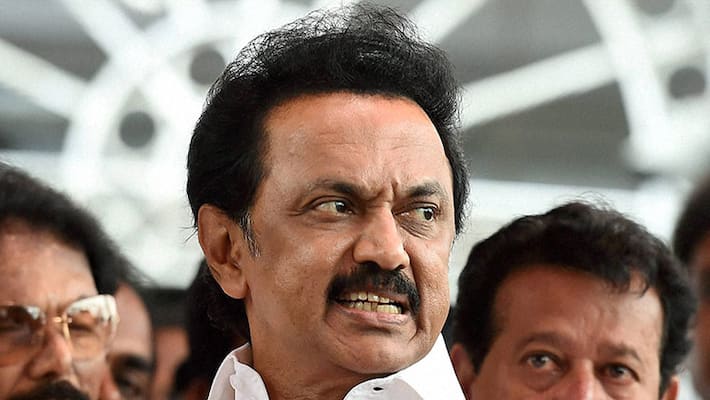 Opposition's Stalin rocks the Tamil Nadu assembly yet again. As a repercussion of the Times-Now-Moon TV sting operation on MLAs being bribed, the leader, along with other legislators were seen holding placards outside the assembly that read 'MLAsFor-Sale'. 
During the ruckus, Stalin demanded that the assembly be dissolved because the entire February 18 Trust Vote was fixed. However, Stalin's attempts at intervening the assembly failed as the Speaker disallowed his calling attention motion. Following the Speaker's order, Stalin was evicted from the House by the Marshals. He sat on a dharna outside the assembly with 86 MLAs. The drama continued till the MLAs conducted an impromptu press conference at the site and said that a thorough CBI investigation is required in the case. Stalin, speaking to the Times of India, said, "After the Times Now expose, the government must resign immediately as it has lost all moral and legal right to continue in office. The sting has two MLAs, Kanagaraj and Saravanan, speaking about crores being given at the resort."
ஆனால்,சபாநாயகர் மறுத்து வெளியேற்றியதை கண்டித்து சாலை மறியல் ஆர்ப்பாட்டம் செய்து, சர்வாதிகார ஆட்சிக்கு எதிராய் குரலெழுப்பினோம். #MLAsForSales pic.twitter.com/xZrRjhKu0D

— M.K.Stalin (@mkstalin) June 14, 2017
The Congress and the Indian Union Muslim League (IUML) legislators also staged a walk out after Stalin's eviction. Meanwhile, AIADMK MLAs are not ready to comment on anything regarding the expose. The expose openly shows how three middlemen were talking about poaching  legislators to both O Panneerselvam and E Palaniswami camps. One was even heard claiming that OPS's son would be fixing the rates and arranging for the cash.     
காலை சட்டசபையில் @TimesNow வெளியிட்ட அதிமுக MLA க்களின் குதிரை பேர ஒப்புதல் வீடியோ குறித்து கவன ஈர்ப்பு தீர்மானம் கொண்டுவர வலியுறுத்தினேன். pic.twitter.com/NFtyRjs36e

— M.K.Stalin (@mkstalin) June 14, 2017
As the day unfolded in the Assembly
The Assembly begun with a discussion on School Education and Development projects that serve the Department of Higher Education.

That is when the opposition party leader M.K.Stalin placed a request to the Speaker. He sought special permission to bring up the video sting issue. He also demanded that the persons involved in the scandal should answer for the same, but to his dismay, the Speaker did not encourage the request.
The Speaker said that it would be inappropriate to discuss an issue that was still under investigation.  "The Speaker did not let MLA Saravanan to answer my question. Either it has to be discussed in the Assembly or it should be sent for CBI investigation.The Speaker has every right to bring up an issue for discussion in the Assembly that is still under investigation. We have decided to take up this issue before the Governor", Stalin concluded.
Last Updated Mar 31, 2018, 6:49 PM IST