Madras High Court opines TTV Dhinakaran wanted to instigate people, upholds sedition charges
Trouble for the former deputy general secretary of AIADMK TTV Dhinakaran keeps increasing by the day.
The Madras high court refused to quash a sedition case registered against Dhinakaran and his staunch loyalist V Pugazhendi
They were booked for having distributed pamphlets appealing people to agitate against the central and state governments for scrapping NEET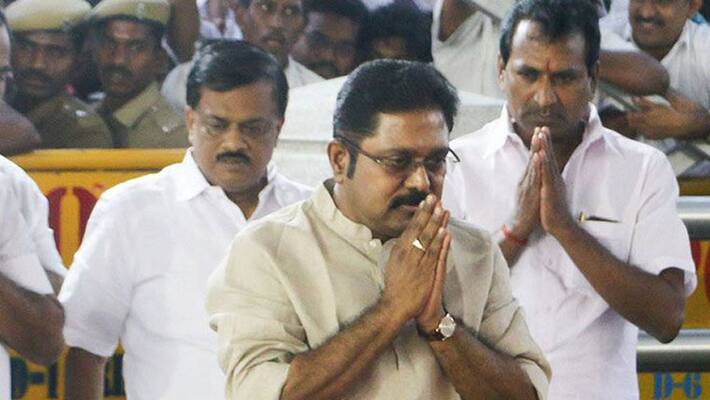 Trouble for the former deputy general secretary of AIADMK TTV Dhinakaran keeps increasing by the day. The Madras high court refused to quash a sedition case registered against Dhinakaran and his staunch loyalist V Pugazhendi, who heads the party's Karnataka unit secretary.
They were booked for having distributed pamphlets appealing people to agitate against the central and state governments for scrapping NEET in the aftermath of the shock suicide of student Anitha.
Salem police registered FIR against Pugazhendi and 16 others, in cluding Dhinakaran, for offences punishable under Sections 143, 120B, 124A, 153, 500, 504 and 506(ii) of IPC for allegedly distributing pamphlets with derogatory slogans in the guise of celebrating the 109th birth anniversary of former CM Anna Durai on September 29, reported the Times of India.
Pugazhendi had approached the court separately asking it to quash the petition. Justice MS Ramesh dismissed Pugalendhi's quash petition. "It is seen that in the pamphlets there is a call to the general public to demonstrate and agitate against the Central Government as well as State Government. As a matter of fact, most of these sentences/phrases in the pamphlets, as reiterated in the complaint, disclose the ingredients of the offences of sedition as well as defamation," the judge said.
This comes at a time when TTV Dhinakaran is reeling under the IT raids conducted at his house and Namadhu MGR, the AIADMK print mouthpiece that he owns. Several companies owned by him and the Sasikala family were raided under 'Operation Clean Black Money'.
Last Updated Mar 31, 2018, 6:49 PM IST