Jayalalithaa's mausoleum is visited by a crowd of 15,000 people every day.
For many, Amma stands as the nurturing, giving mother whose schemes benefited many.
"Jaya pattiya kumbittukko (pay obeisance to Jaya grandma)," an elderly woman tells her grandchild at the mausoleum of the former chief minister at the Marina Beach here.
The six-time chief minister passed away on December 5 last year after spending over 70 days in a hospital in Chennai. Men and women-- young and old -- continue to throng the "Amma samadhi". On an average, about 15,000 people every day visit the final resting place of the late AIADMK chief amid the whistling sea breeze.
Many of them are women, for whom 'Amma' continues to be an icon. Among the others are party workers, sympathisers and tourists who wait in the serpentine queue to take a look at the samadhi. Rural people still look upon her as their 'Amma' – or mother -- and many speak of the several welfare schemes that she launched for their benefit.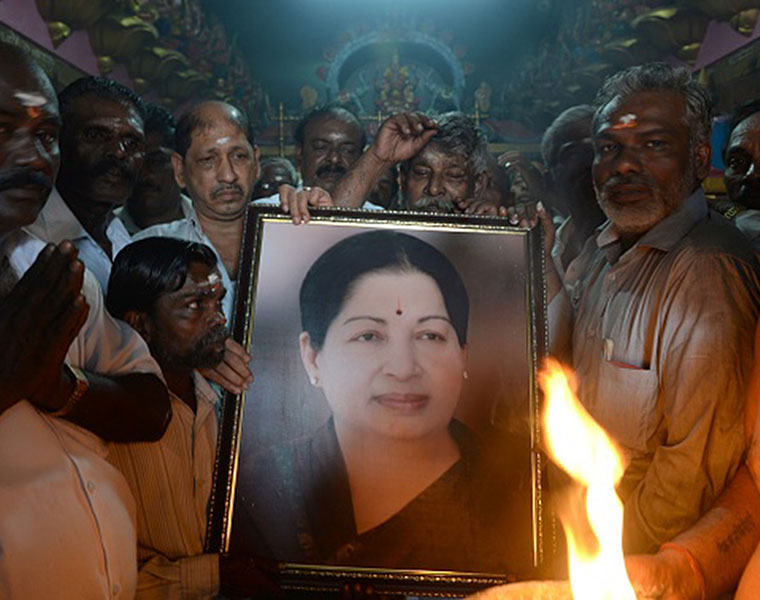 "She is among the women I look up to for inspiration, for her courage, for standing tall in the male dominated political arena," says B Kalpana, a civil service aspirant. On being asked about Jaya's conviction in a disproportionate assets case, S Jayanthi, a tourist from Batlagundu, retorts: "One should also note she gave people milch cows, goats, subsidised food (Amma Canteen) and more."
Similar praise is heard about her welfare schemes and some pioneering measures like all women police stations. Standing in the queue,  K Masilamani, a retired government servant, recalls that Jayalalithaa took action under the Essential Services Maintenance Act in 2003 against striking employees.
"Still," he says "we cannot also forget that she implemented innovative welfare schemes." He mentions the cradle baby scheme for orphans and Amma canteens which serve food at a subsidised rate.
Also Read: How did Sasikala chance upon Jayalalithaa?
"We need to take everything into account," he says. Some people sell biographies of Jayalalithaa, pocket-size photographs of the late CM and small diaries with her image at the site.
The samadhi, just behind the memorial of Jayalalithaa's mentor and former chief minister MG Ramachandran, sports a makeshift shamiana and steel railings with supporting ornamental pillars forming an enclosure.
Also Read: Listen to Jayalalithaa's historic speech in Rajya Sabha in 1984.
The spot where her mortal remains were interred is covered with cement plastering. Two portraits of Jayalalithaa -- one massive, and the other small -- adorn the mausoleum, the only signs that mark the spot as the late leader's resting place.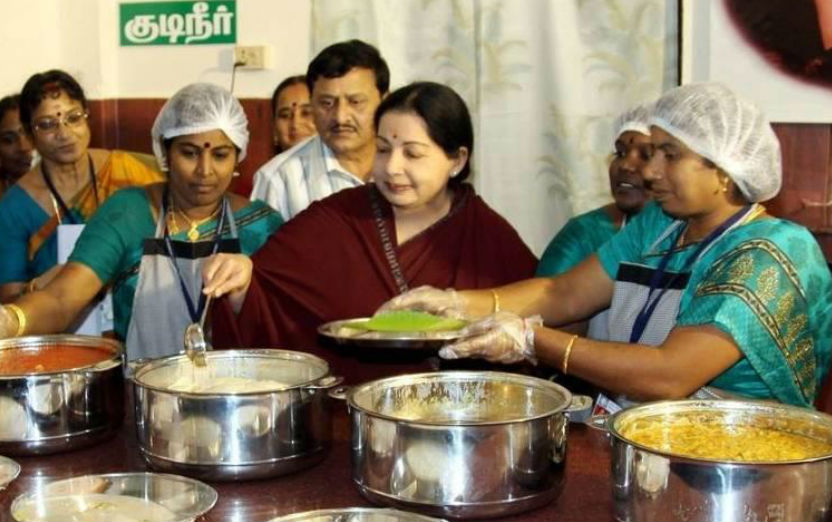 The police say adequate measures are in place to regulate the crowd, which is expected to swell with school and college vacations. During weekdays, a police team led by an assistant commissioner is also on duty at the adjacent M G R memorial complex, which is under CCTV surveillance, a senior police official says. Since the number of visitors goes up substantially during the weekends, a deputy commissioner is posted on the site with an additional number of police personnel.
Security guards drawn from a private security agency are deployed in the inner precincts of the Jayalalithaa memorial complex. Although the state government had allotted Rs 15 crore last December for the construction of a memorial for Jayalalithaa, work is yet to begin as a petition had been filed in the Madras High Court against the move.
The petition was filed on the grounds that the late leader was the prime accused in a disproportionate assets case in which the Supreme Court on February 14 had convicted three co-accused, including V K Sasikala.