Sasikala I-T seizures: Sleuths hint at benami transactions in the name of driver, servants
I-T officials hint at discovering benami assets in the name of servants and drivers.
They are likely to be interrogated about the source of income for buying these properties.
Sasikala, meanwhile is said to have grown anxious because of the raids, jail sources said.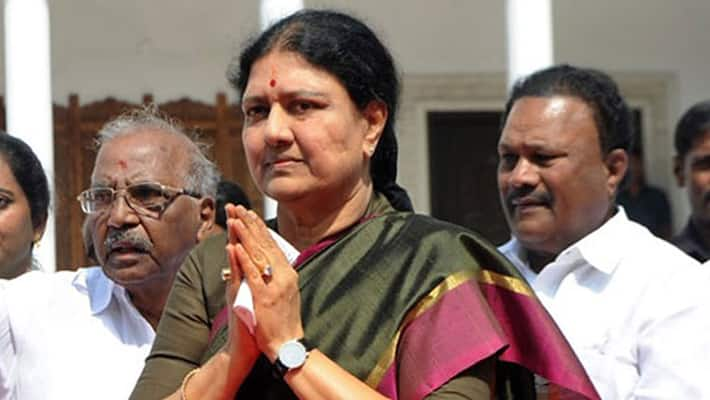 The income tax department's raids on Sasikala's properties has entered its fourth day. While there are rumours of several incriminating documents having been found in the premises of Sasikala and her family members, I-T officials believe that some of them imply at benami transactions worth hundreds of crores.
The number of locations where raids have been conducted have come down to 37 across Chennai, Coimbatore and Puducherry. However, the documents are said to have been seized from 150 other locations across the state. Refusing to specify the amount of gold or cash found, a senior I-T official said, "We have seized documents huge benami assets. It appears that prime properties in Tamil Nadu have been purchased in the names of household staff like car drivers, servants, assistants, etc. and friends or business associates of the main suspects. We will serve notices asking them to explain the source of
income and account for the same."
The official, along with others, however refused to admit that bank accounts of shell companies have been frozen. They, however, said that such action will be taken as and when required. The officials also denied the fact that the raids were conducted at the haste of Prime Minister Narendra Modi who had visited the state last month. They further added that 'Operation Clean Tamil Nadu' was initiated right after the property corruption cases lodged against Jayalalithaa. 
He also said, "We had specific inputs of [suspected] large scale benami transactions involving the family members [of Sasikala] over a period of time. Adequate homework was done before launching the operation, which is one of the biggest in recent times. A large volume of documents has been seized, and more may come out soon. A sizeable number of documents was seized from a house in T. Nagar. The market value of these assets could be several hundreds of crores [of Rupees]."
The officials, speaking to The Hindu, also hinted at interrogating the suspects about their assets within and outside India. One of them said, "If they don't disclose [their assets] voluntarily, we will invoke the provisions under the Black Money (Undisclosed Foreign Income and Assets) and Imposition of Tax Act, 2015. If need be, experts from the Foreign Tax and Tax Research division would be roped in to assist us in the investigation."
Going by the quantum of cash and jewellery found, the officers also suggested that a clear case of prima facie offence has been established and that the law will take its course soon. It is also being said that assets not accounted for will be confiscated under the Benami Transactions (Prohibition) Amended Act, 2016. 
Meanwhile, according to inside sources, officials have also raided the properties and the farm house of TTV Dhinakaran near Bommayarpalayam in Villupuram district.
Anxious Chinnamma gets sleepless nights in jail
Sasikala's anxiousness was pretty obvious as the I-T raids on her properties continued for the fourth day. Currently, serving a four-year term in the disproportionate asset case, she is said to have been glued to the television and Tamil periodicals for developments in the raid. 
Jail sources said that she was seen watching TV till late on Friday and Saturday. Speaking to the Times of India, jail sources said, "She was busy watching Tamil TV channels on Friday and Saturday till 1am. On Saturday, she arrived at the prison library and read Tamil dailies. She appeared disturbed after reading news of the raids." The source also said that Sasikala was accompanied by J IIavarasi who was her fellow convict in the DA case. The source further added, "Usually, Sasikala and Ilavarasi have dinner around 8pm and go to bed by 9pm. She generally watches Tamil movies or old film songs."
On Sunday morning too, Sasikala was seen sitting in the library for 90 minutes going through journals and newspapers. She then returned to her barracks and was seen discussing something with Ilavarasi and then writing some letters, said the same source.
Last Updated Mar 31, 2018, 7:07 PM IST