VC Prakash is known as 'Australia Prakash' in Congress circles
The Delhi police had issued a look out notice on him
Police have already taken TTV Dinakaran and Sukesh Chandrashekhar into custody
The Delhi police who are investigating into the Tamil Nadu's infamous 'Two leaves bribery case' have now detained VC Prakash, a close associate of Karnataka Home Minister G Parameshwara.
Prakash, who is the former deputy chairman of NRI Forum in Karnataka is alleged to have helped TTV Dinkaran and Sukesh Chandrashekar in their deal. AIADMK deputy general secretary TTV Dinakaran and middleman Sukesh Chandrashekhar are in police custody. Television channels reported that Prakash who was in Australia for quite some time is identified as Australia Prakash in the Congress circle, thanks to his proximity to Parameshwar, it is alleged.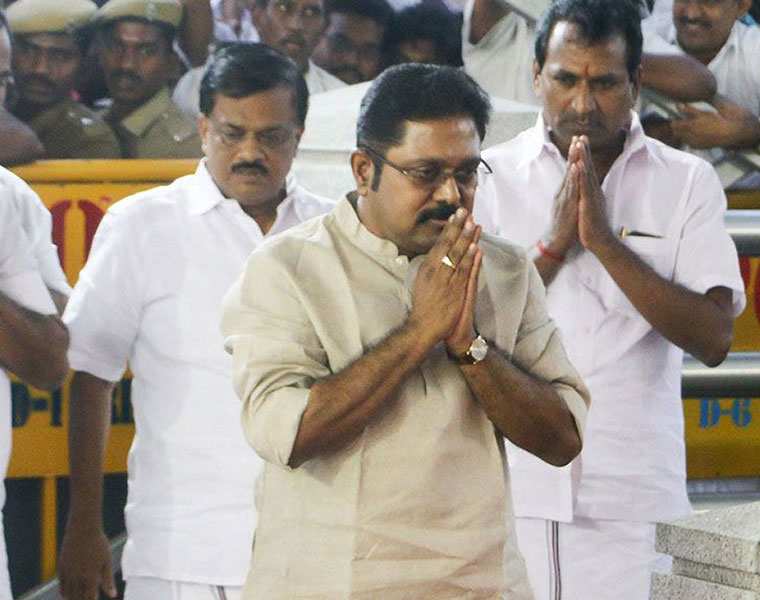 The Delhi police had issued a lookout notice on Prakash while they were trailing Dinakaran's case. Today, they have detained Prakash and are grilling him about the details of two leaf bribe case. The Delhi police crime branch officials had arrested Dinakaran for allegedly bribing for the AIADMK's 'two leaves' symbol to help Sasikala faction to use it. The police have also arrested, Bengalurean and serial offender Sukesh Chandrashekhar in connection with the case.
Prakash is also a friend of Mallikarjuna who was arrested along with Dhinakaran on April 25. It is suspected that Prakash had helped Mallikarjuna in the money transfer through hawala route, police said.
He has already been questioned once and is likely to be grilled again on Friday.
"It was suspected that he might escape from here and that is why a lookout notice was issued. His statement has been recorded once and he will be questioned again this week," said the officer.
Dhinakaran was arrested on the night of April 25 after four days of questioning for allegedly attempting to bribe an unidentified EC official to get the undivided AIADMK's 'two leaves' election symbol for his faction for a by-election to the R K Nagar Assembly seat in Tamil Nadu which was later cancelled by the Election Commission.
The EC had frozen AIADMK's 'two leaves' symbol after two factions led by Sasikala and former chief minister O Panneerselvam staked claim to it.
Dhinakaran has been accused of allegedly arranging the amount from undisclosed sources and getting it transferred from Chennai to Delhi through illegal channels.
His name had surfaced after police arrested an alleged middleman Sukesh Chandrasekar who had allegedly told Dhinakaran that he had contacts in the EC and would help his faction get the election symbol. 
 
(With PTI inputs)