GST dialogue from Vijay's Mersal removed; BJP dictating terms now?
Tamil movie Mersal has fallen prey to the BJP supporters' pressure and the producers removed the scene against GST, demonetisation
Despite overwhelming support from common people and the likes of Kamal Haasan, Aravind Swamy the scene was removed
The dialogue took a dig at PM's ambitious programmes -GST and demonetisation of 86 per cent of Indian currency
It looks like no one will be allowed to talk or have opinions against the Centre's policies and programmes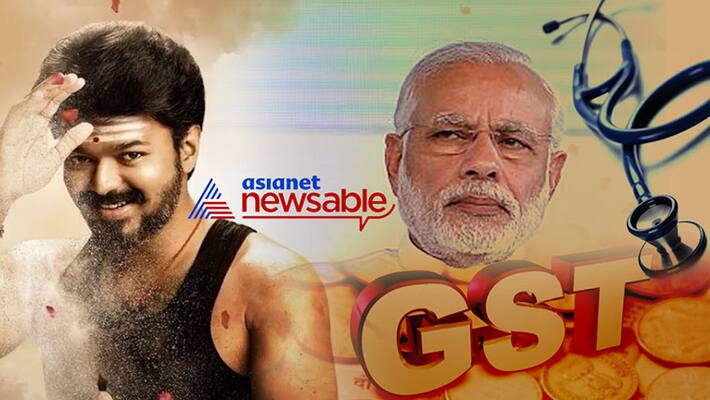 Tamil movie Mersal of Vijay-Atlee combination has fallen prey to the BJP supporter's pressure, and the producers have re-released the movie (from Oct 21) after removing the controversial scene on GST and demonetisation.
Despite overwhelming support from common people and the likes of Kamal Haasan, Aravind Swamy and others the scene where Vijay takes a dig at PM Modi's decision of demonetisation and GST affecting people has been cut. Are PM Modi and his supporters acting like the 'Big Brother is Watching You' in the George Orwell's book 1984, where every action of the people is tracked, and just forget speaking, even thinking against the government is finished?
Mersal has in fact accomplished something which even Aamir Khan's PK or any other South Indian film could do. The GST dialogue in Mersal has made BJP; rather PM Narendra Modi supporters seethe with anger. It is really surprising that the GST dialogue has been removed. Just imagine the extent of pressure created by the PM supporters.
The dialogue in the movie states that there is 28 percent GST on medical supplies but not on liquor which has made many women widowed. The negative talk about GST has been taken personally by the BJP supporters.
Surprisingly even Indian Medical Association has expressed it's opposition to the fact about medical negligence in India.
IMA TN objects to how doctors in govt hospitals & medical community has been projected in #Mersal: Pres, Indian Medical Assoc, Tamil Nadu pic.twitter.com/MIyeCgKI9l

— ANI (@ANI) October 21, 2017
To elaborate, Vijay says that Singapore, which GST rate of 7 per cent and is able to provide free healthcare to its citizens. But in India, despite having the maximum GST slab of 28 per cent, the government has not been able to ensure the even bare minimum medical security. Vijay also takes a dig at Modi's demonetisation of  Rs 500 and Rs 1000 currency notes.
Mersal starring Ilaya Thalapathy Vijay is directed by Atlee of Theri fame and produced by N Ramasamy, Hema Rukmani, R Mahendran and H Murali.
Though many had spoken against GST and it's ill-effects, it is the first time a movie and a popular star has directly hit out at one of the programmes of the government. The producers of the movie are being pressurised to cut the scene where actor Ilayathalapathy Vijay speaks against GST.
If one does not even have the freedom to oppose the government programme which is affecting people in a fiction form like a film, what kind of situation has been created in India?
Contrasting the actions, PM Modi sometimes ago had said this about freedom of expression (of course on a different matter):
BJP forcing #Mersal producers to cut scenes critical of GST & Modi. As a common man, I join protest against crackdown on Freedom of speech!🙏 https://t.co/Vkh7iF7JPC

— PM Flip Flops (@PMFlipFlops) October 21, 2017
Now  PM Modi's silence on the way his fans and 'devotees' (Bhakths) are creating a tensed situation and pressurising the producers is not surprising, considering his reaction to previous incidents. Be it killing of Gauri Lankesh and celebrations on the death by those followed by the PM himself or Rohingya killings, death of more than 100 children in BJP-ruled Uttar Pradesh, the PM has conveniently been silent.  
But it looks like this silence is doing some work in exposing his 56-inch chest little by little. The reaction of people to Mersal and support to the GST dialogue can be considered as a warning of people as to not take them for granted.
Of course, the PM has his supporters whatever he might say or do, but overwhelming support to Atlee, Vijay and their Mersal surely sends a message to the centre.
Kamal Hassan who is likely to make his political entry soon has lauded the crew and has stood by Mersal and the GST dialogue.
Here is what people have tweeted supporting Mersal with the hashtag #IamWithMersal
By consolidating taxes,GST is making ppl aware of their https://t.co/c3b9RS4Tlw people will ask the govt for their due.What's wrong?#Mersal

— arvind swami (@thearvindswami) October 20, 2017
Kaththi - For Farmers
Bairavaa - Against Business In Educational System
Now #Mersal Against GST & DeMonetisation

Respect u sir @actorvijay

— Mαнeѕн Bαвυ Fαɴ (@SSMBsWarrior) October 21, 2017
Muslim Weavers of Bhiwandi,
Hindu traders from Surat,
'Christian' Vijay of Mersal,
GST is a symbol of Religious unity now!#GSTVijayWar

— amey tirodkar (@ameytirodkar) October 21, 2017
#GST FACTS !#MersalVsModi #Mersal pic.twitter.com/zPEvwhUlHJ

— Troll Cinema ( TC ) (@TrollCinemaOff) October 21, 2017
Last Updated Mar 31, 2018, 7:04 PM IST