Chennai floods: Even waist deep water cannot stop tipplers from their favorite alcohol
Chennai received unprecedented rainfall on Thursday night and Friday morning, submerging most parts of the city
However, for the habitual drinkers, not even the rains could deter them from their daily quota
Liquor sales in the Tamil Nadu State Marketing Corporation Limited shops did not dip even in the face of heavy rain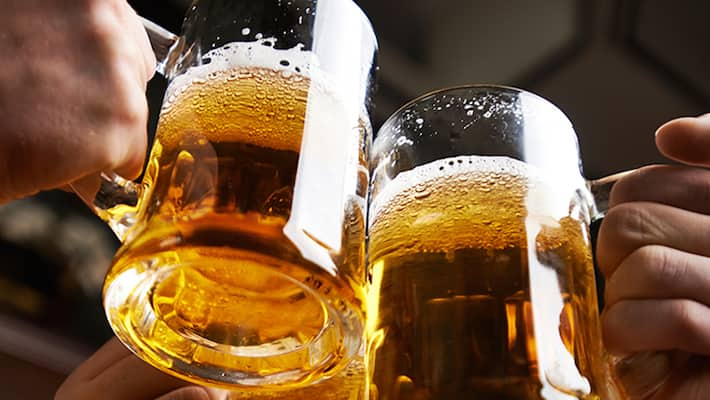 Chennai received unprecedented rainfall on Thursday night and Friday morning, submerging most parts of the city. Thursday's rain reminded one of the devastating 2015 rains that had left the city inundated and several dead.
However, for the habitual drinkers, not even the rains could deter them from their daily quota.
The Hindu reported that liquor sales in the Tamil Nadu State Marketing Corporation Limited shops did not dip in places like Egmore. A person-in-charge there told the paper, "Sales has in fact increased marginally over the last two days."
Areas like Thyagaraya Nagar, Koyambedu and Chintadripet witnessed sales as usual. In fact, managers of Tasmac outlets in Thiruvanmiyur, Guindy and Anna Nagar said that sales usually go up during rain.
The manager of one of the outlets said, "Since it started raining consumers are buying liquor in the afternoon itself and stocking it. Sales is stable for us at this outlet," he told the Hindu.
On an average, Tasmac sold liquor worth Rs. 68-Rs. 70 crore per day. Post price hike in October this has touched Rs. 75 crore per day.
Residents though have complained that several customers drink and sleep on the pavements outside the Tasmac shops. This could pose a problem during waterlogging. There are also chances of them being swept away if the water level rises.
Last Updated Mar 31, 2018, 6:45 PM IST