Despite debt, idle TNSTC drivers get regular pay, benefits
Apart from regular salaries, these people are given four sets of uniforms and Rs 20,000 washing allowance every month.
Drivers and conductors are given "on duty" jobs that require skilled labour.
They are given office duties even while there is a shortage of workers running the buses, which is a grave violation of norms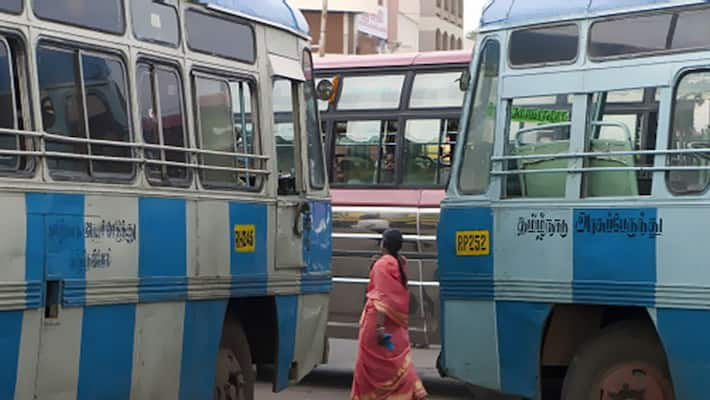 Reports are rife that the Tamil Nadu State Transport Corporation is facing a massive debt of Rs 35,000 crore and despite that, a group of its idle drivers are getting regular pay cheques only because they belong to a powerful union. However, onthe other hand, it denies retirement benefits to former staff citing financial crunch.
It is said that TNSTC's Madurai region alone has been wasting Rs 60 lakh per month on salaries to 180 drivers and conductors, most of whom belong to the trade union and who are doing personal work, including business during office hours.
General Secretary of Arasu Pokkuvarathu Madurai Thozhilalar Sangam, speaking to the New Indian Express said, "These people are given four sets of uniform every year; Rs 20,000 is spent every month as washing allowance for them. Madurai has been losing Rs 2.50 lakh per day as 10,000 km of transportation is cut down daily because of the workers' idle condition, which seems to have administrative support."
According to a RTI reply received by V Pitchai, who is the vice president of Sangam, the drivers and conductors, they are given office duties even while there is a shortage of workers running the buses, which is a grave violation of norms.
Incidentally, on further investigation, it was found that the drivers and the conductors were given jobs that required skilled forces. For instance, some of them were given jobs in EDP sections that took care of designing systems and programmes, maintaining computers, data files and records, and the legal section that took care of issues related to labour laws, accidents, criminal cases and civil suits were allotted to them as "office work". Some of them were also given the responsibility of checking the eyesight of the drivers, which should ideally have been done by an opthalmologist. 
"On Duty" job has been offered to office bearers without any reason. In fact, TNSTC admits that the allocations have been grossly misused. 
Last Updated Mar 31, 2018, 6:34 PM IST