5 things you did not know about Natarajan
Remaining behind the screens, Natarajan played an important role in the rise of J Jayalalithaa and VK Sasikala
But how did he come close to the centre of power?
Here are details about how Natarajan made a difference in Tamil Nadu politics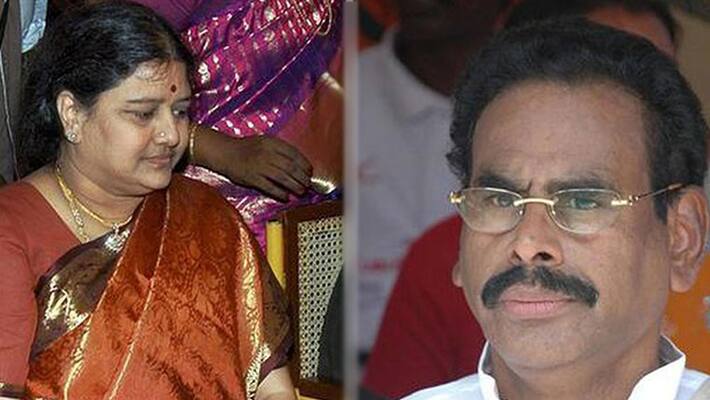 Natarajan, as known to most as former late CM J Jayalalithaa's close aide VK Sasikala's husband, was nothing short of a celebrity himself. Remaining behind the screens, he played an important role in the rise of both Jayalalithaa and Sasikala. However, both distanced themselves from Natarajan when they had the power in their hands.
Here we delve deep into who is Natarajan and how did he wield the magic stick of power and remained silent.
1) Natarajan was born in a small family in Thanjavur district and did not have the money nor knew anyone from a political background.
2) His stint as a student leader made him a recognised name among the activists. Especially leading the anti-Hindi campaigns when he was pursuing BA literature in 1973 made him grew closer to M Karunanidhi, who later became the Chief Minister from the DMK party.
3) Natarajan was passionate about Tamil language and literature and was active in going all out to slam anyone and anything that was against it
ALSO READ: Jailed AIADMK leader VK Sasikala's husband M Natarajan passes away
4) Natarajan had become so close to Karunanidhi that, he chose him as the Public Relations Officer of the government
5) Maybe Natarajan was smart and not loyal, so when he lost his job and DMK had lost its charm, Natarajan changed parties and stood by Jayalalithaa and jumped ships to AIADMK, knowing very well that she did not have anyone else and had to depend on them.
Rest is history, how he got Sasikala introduced to Jayalalithaa and even moved to Jayalalithaa's house with his family of 40 people. It seemed like when Jayalalithaa threw Natarajan and 40 of his family members out, including Sasikala, he was not ready to let it go. It looks like Natarajan might have asked Sasikala to sever ties with him and be with Jayalalithaa just to make sure that the power remained with him, of course indirectly.
ALSO READ: In detail: The mystery of how a 'perfect' donor was found for Sasikala's husband
It seems true while considering the fact of Natarajan and his Mannargudi family's sudden entry into the picture who had surrounded Jayalalithaa's body, despite being thrown out not to seen again anywhere near her when she was alive. 
He wielded power for sure in many decades of his life but sadly died without his being successful in seeing his wife holding the reins of power.
Last Updated Apr 4, 2018, 7:11 PM IST