Watch: Usain Bolt 'bolted' Chris Gayle's stumps
Bolt and Gayle played a charity cricket match in 2009.
The sprinter is set to retire after 2017 World Championship.
Bolt is an all-rounder who can play decent cricket and football along with his sprinting skills.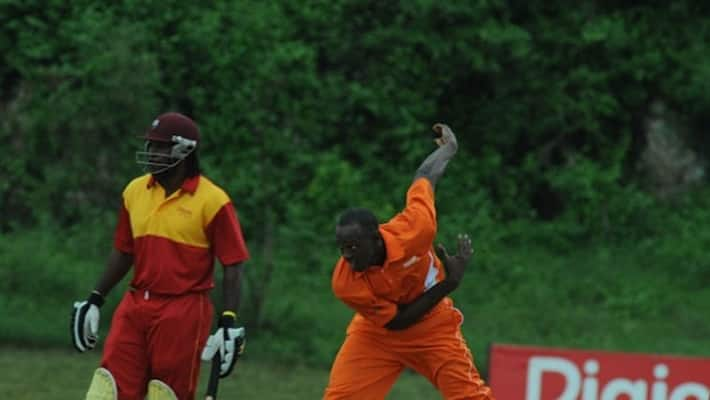 The required qualities in a fast bowler like fitness and speed and certainly the love for cricket were already there in Bolt, as a kid. He spent his childhood playing cricket and football in the streets.
"When I was young, I didn't really think about anything other than sports," the sprinter said during an interview.
The nine-time Olympic gold medallist, Bolt, in a charity match in 2009 boasted his cricketing skills when he rattled Chris Gayle's stumps before smashing the dashing West Indian specialist for a massive six.
The delivery bowled by Bolt to Gayle was short and surprising which left the explosive batsman with no answer to that, thereby impressing Gayle himself and legendary West Indian cricketers present there like Curtly Ambrose.
"I liked his first delivery to Chris Gayle, short and very surprising - he's an athlete, and he loves cricket and football, and obviously he can't fit it all in but he looks good," Ambrose said praising Bolt for his bowling skills.
The fastest timed man on the planet - Bolt - who has proved to have decent cricket touch in himself is also interested in singing and dancing, like any typical Jamaican.
At Rio Olympics 2016, he recently created an unprecedented record, a triple treble by bagging gold in 100 metres, 200m and 4x100m relay for the third successive Olympics.
The 30-year-old track athlete recently scooped a record sixth IAAF Athlete of Year award and has announced retirement after next year's World Championship.
It is difficult to imagine if the world will ever witness a second 'Bolt!'
Last Updated Mar 31, 2018, 6:46 PM IST