Watch the 500th genius moment of Leo Messi
Messi is 105 goals clear of second all-time top scorer Paulino Alcantara.
The Little Master scored the 500th goal during Barca's La Liga's match vs. Sevilla.
Messi and Suarez scored in Barca's 2-1 win over Sevilla on Sunday.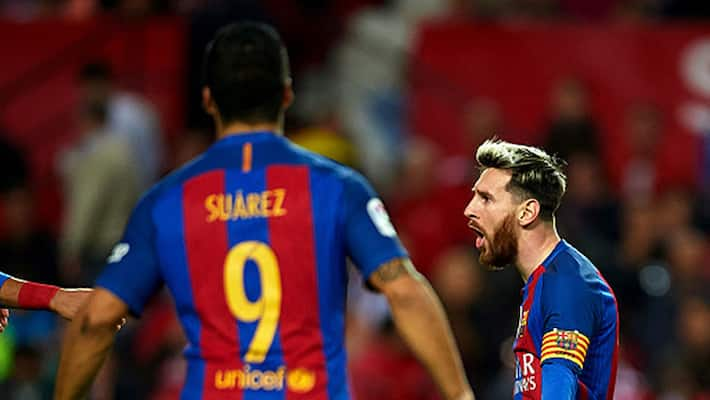 Messi like every time rescued Barcelona when they trailed 0-1 against Sevilla with a shot from 18 yards. He equalised after Vitolo gave the hosts lead within 15 minutes of the kickoff.
However, the winner was scored by Luis Suarez who converted a pass from Messi into a winner in the 61st minute.
Watch Messi's 500th genius moment for Barca:
Messi' scored his 500 career goals for Barcelona in 592 official games and friendlies. Out of 500, he scored 469 during official matches, while 31 in the friendlies.
The Argentine skipper has 320 goals during the Spanish league and 90 in UEFA Champions League among his mark of 500 goals.
Messi's maiden goal for the Spanish giant club came back in May 2005 as a 17-year-old when Barcelona faced Albacete.
Messi's 500 goals came as follows:
320 in La Liga
90 in the UEFA Champions League
39 in the Copa del Rey
12 in the Spanish Super Cup
5 in the FIFA Club World Cup
3 in the UEFA Super Cup
31 in friendlies
In 2012, the legendary striker broke Barcelona's goals scored in official matches record - previously held by Cesar Rodriguez, who played for the club in the 1940s and 1950s.
Here are FC Barcelona's five all-time goal scorers:
| | |
| --- | --- |
| Name | No. of goals for Barca |
| Lionel Messi | 500 |
| Alcántara  | 395 |
| Josep Samitier | 361 |
| César Rodriguez | 303 |
| László Kubala  | 281 |
Here is a compilation of Messi's 500 goals for FC Barcelona: 
Last Updated Mar 31, 2018, 6:47 PM IST