Vijender Singh makes it 8-0 with a bit of mockery in the ring
Vijender Singh registered his 8th consecutive bout in pro boxing.
All of Vijender's victories have come by knockouts.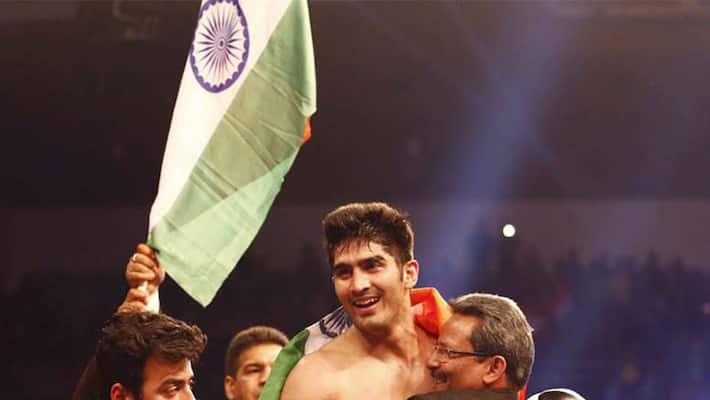 Vijender Singh retained his WBO Asia Pacific Super Middleweight title after he rattled Tanzanian Fracis Cheka in the third round of the bout on Saturday in New Delhi. It took very little time for Vijender to make Cheka reel right from the onset. It was yet another easy victory for Vijender as he cruised to his 8th pro bout win at the Thyagraj Stadium on Saturday.
Cheka did speak a lot before the bout. The former World Champions even went on to say that he wanted to see Vijender's blood in the ring. Vijender did not reply to these comments before the match but he chose to show Cheka how it feels when a juggernaut like him (Vijender) lands blows after blows.
Before knocking Cheka out only in the third round of the bout, which was supposed to last for 10 rounds, Vijender even mocked the Tanzanian by putting both of his hands behind his back and smiling after landing several blows on Cheka's face.
Check out the picture here:
Last Updated Mar 31, 2018, 6:31 PM IST