Tokyo Olympics: India wins crucial match in women's hockey
India defeated South Africa 4-3 in the last Pool-A women's hockey match of Tokyo 2020.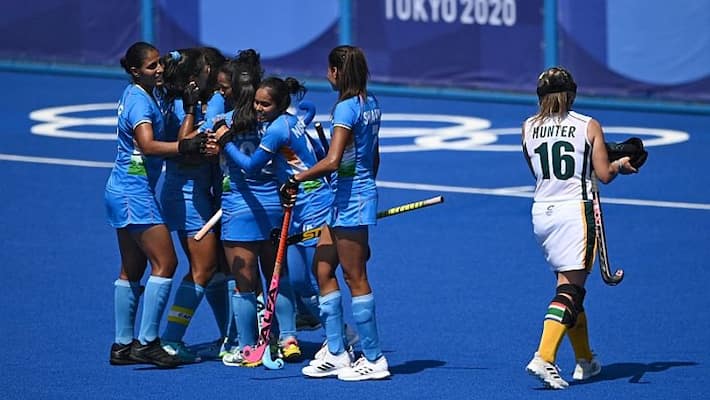 India defeated South Africa 4-3 in Women Hockey Pool A match at the Tokyo Olympics 2020. The eyes of the Indian women's hockey team will now be on the match between Great Britain and Ireland to be held in the evening. If Ireland loses in this match, then the Indian team will get a chance to play in the last-8.
The Indian team took a 1-0 lead against South Africa in the first quarter through Vandana Katariya, who scored in the fourth minute. 
Having momentarily taken their foot off the pedal, the Indian team suffers a setback as Glasby Tarryn Christie equalised for South Africa with a deflection in the 15th minute.
This was a must-win match for India. They had to win big so as to ensure that they are not at a disadvantage in case goal-difference decides the fourth and final quarterfinal spot from Pool A.
In the second quarter, the Indian team got its fourth penalty corner. The Indian women's team, which has been plagued by its inability to convert penalty corners into a goal, got one into the net off a deflection from Vandana.
Indian women's hockey team has had a very poor record of scoring goals off penalty corners in these Olympic Games. 
So far, out of 27 penalty corners, only two have been converted into goals. 
In the last match against Ireland, Indian women had wasted 14 penalty corners.
Meanwhile, South Africa exposed the chink in India's defence in the dying moments of the second quarter.
South Africa scored in the 30th minute of the match, with Erin Hunter scored from a penalty corner. At half time, the score was tied at 2-2.
India took the lead again in the second minute of the third quarter against South Africa. Neha scored this goal for India off a penalty corner in the 32nd minute. This is Neha's first goal in Olympics. But India's lead was short-lived yet again, with South Africa scoring the equaliser. 
In the 39th minute of the third quarter of the match, South Africa's Marais Marizen put the ball behind the nets.
Vandana Katariya scored her third goal and put India ahead for a fourth time in the 49th minute. She scored off a penalty corner to give his team the lead again against South Africa. 
Vandana made a unique record by scoring three goals in the 4th, 17th and 49th minutes of the match. She has become the first Indian female hockey player to score a hat-trick in an Olympic match.
Last Updated Jul 31, 2021, 10:53 AM IST