Leander Paes dubs Carlos Alcaraz as 'most exciting player in 10 years'; reflects on India's Asian Games show
Leander Paes praises Carlos Alcaraz as the most exciting young player in tennis and discusses Indian athletes' performances at the Asian Games 2023.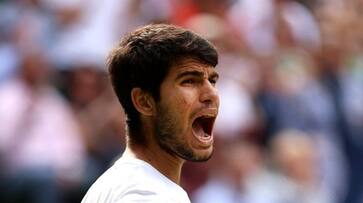 Indian tennis legend Leander Paes has hailed Carlos Alcaraz as the most exciting young player in the last decade, praising the Spaniard for his speed and game-changing style. Paes, who is competing for a spot in the International Tennis Hall of Fame's class of 2024, expressed his admiration for 20-year-old Alcaraz's offensive style and innovative shots, highlighting his ability to redefine the sport.
"You look at the two top ones, Iga Swiatek and Alcaraz. I think Alcaraz is probably the most exciting new player in the last decade. For me, he has redefined the game. His speed... Alcaraz has redefined the game of tennis with his speed," Paes told the media in Mumbai during an event.
"His technical knowledge of mathematics, his offensive game with a chop forehand or a drop shot we were taught that the drop shot is a stupid shot, a 'chaalaki shot'. My coach used to rap me on the knuckles if I played drop shot," Paes added.
Regarding the Asian Games, Paes expressed surprise at the early exit of Rohan Bopanna and Yuki Bhambri in the race for the gold medal but was pleased to see Ankita Raina win her first match. He also empathised with Sumit Nagal's challenges and hoped for his success.
"I was really surprised that Rohan and Yuki lost in that early round did not expect that. But also really happy to see Ankita Raina win that first one. She was really unlucky in her last match that she lost; she was up two love in the first set but lost in the final set," Paes said.
"I was really hoping that Sumit would win that singles because he really needs some wins. It was quite hard to see what he put the previous day in papers, the struggle and obviously one knows the struggle all too well," Paes added.
Paes commended Ramkumar Ramanathan and Saketh Myneni for their performance in winning the silver medal. He expressed his passion for Indian athletes and their achievements. "I was impressed and really happy with Ramkumar and Saketh. In the semis, after they won that first set, Ram served for the match," he said. 
"They had match points; in the tie break I was screaming because they crossed so early they had 2-3 match points. They crossed really early and the Koreans just hit it right down the line comfortably... (I am) so passionate about our athletes," Paes added.
Leander Paes has been nominated in the players' category for induction into the International Tennis Hall of Fame's class of 2024. The official announcement of nominations for the class of 2024 will be made on November 1, with voting based on fan votes and votes from past hall of famers, players, coaches, and media.
"For me to be nominated as the first nomination into the player category, as the first Indian to do that, is very special because dad (Vece Peas) has motivated me to push the boundaries and put India on the map," Paes said.
"But the actual induction into International Tennis Hall of Fame will be determined if you get 75 per cent of the total votes not just the fan votes but there are about 140 votes approximately given to past hall of famers, players, coaches and media that is where the real meat of the voting will be," Paes added.
"I am one of the six nominations in the players' category. There is Carlos Moya, Flavia Pennetta, Cara Black my mixed doubles' partner who I won the Wimbledon with and then the Australian Open. There is Ana Ivanovic and Daniel Nester, who also was my doubles' partner," he added while mentioning the other names in the list. There is another category which is also the contributor category, huge congratulations to Richard Evans and Vijay Amritraj. My vote will be for every one of them. We are not competing against each other. If I had my way, I'd vote for everyone," Paes commented.
Last Updated Sep 29, 2023, 9:57 PM IST