Watch ISL highlights! Sachin's dreams dashed again; Kolkata ISL champions
Atletico de Kolkata pipped Kerala Blasters for 4-3 in the penalty shootout.
Both teams had scored one each in match time and in the extra time.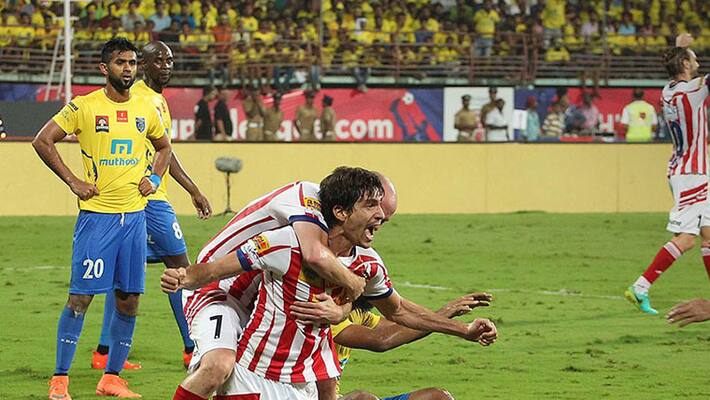 Thousands of Kerala Blasters' fans that thronged Jawaharlal Nehru Stadium in Kochi was disappointed once again as Atletico de Kolkata (ATK) kissed the Indian Super League (ISL) Trophy twice on Sunday. The cheering crowd that overflowed the sprawling stadium could not give the final push to the home team to steal the Cup from the defending champions.
CHAMPIONS! Congratulations to @atletidekolkata on winning the #HeroISL for the 2nd time and coming #1stInTheFinals! #KERvATK #LetsFootball pic.twitter.com/VdXWIoCsaO

— Indian Super League (@IndSuperLeague) December 18, 2016
The thrilling tournament  saw both teams scoring one each in the match time and in the  extra time. In the penalty shootout, the ATK outwitted the Blasters for 4-3. 
The Blasters' supporters who painted the galleries in yellow fell silent for a moment as team's leading promoter Sachin Tendulkar's dream dashed to the ground once again. 
Watch the highlights of the game.  
BOOM! Rafi scores against his old side to give @KeralaBlasters the advantage in the #HeroISLFinal!
#KERvATK #1stInTheFinals #LetsFootball pic.twitter.com/fCt5ujL9ii

— Indian Super League (@IndSuperLeague) December 18, 2016
Bollywood legend @SrBachchan & Mrs. Nita Ambani speak about the wonderful atmosphere at the Jawaharlal Nehru Stadium! #KERvATK #LetsFootball pic.twitter.com/pISb005Xiq

— Indian Super League (@IndSuperLeague) December 18, 2016
Tricky save for @GrahamStack1 to make, but he's an experienced customer. #ISLMoments #KERvATK #LetsFootball pic.twitter.com/YrouWEnjMG

— Indian Super League (@IndSuperLeague) December 18, 2016
Fantastic build-up play, but Postiga's finishing let him down and head coach Jose Molina knows it.#ISLMoments #KERvATK #LetsFootball pic.twitter.com/mz00boXLKp

— Indian Super League (@IndSuperLeague) December 18, 2016
Tricky save for @GrahamStack1 to make, but he's an experienced customer. #ISLMoments #KERvATK #LetsFootball pic.twitter.com/YrouWEnjMG

— Indian Super League (@IndSuperLeague) December 18, 2016
Postiga is on a mission tonight, and Molina is happy with his determination.#ISLMoments #KERvATK #LetsFootball pic.twitter.com/b1DyBaUwvJ

— Indian Super League (@IndSuperLeague) December 18, 2016
Third time lucky for Postiga? Not quite, but don't miss Juan Belencoso's reaction here. #ISLMoments #KERvATK #LetsFootball pic.twitter.com/wxQ7YK6tbf

— Indian Super League (@IndSuperLeague) December 18, 2016
Celebrations erupted on the pitch and off it after Rafi gave @KeralaBlasters the lead.#KERvATK #1stInTheFinals #LetsFootball pic.twitter.com/KKVq8liAyy

— Indian Super League (@IndSuperLeague) December 18, 2016
At the #HeroISL Fan Parks, the supporters were overjoyed the moment Rafi found the back of the net!
#KERvATK #LetsFootball pic.twitter.com/2LiK1nVhhw

— Indian Super League (@IndSuperLeague) December 18, 2016
Nazon tricks his way into space, but his shot lacked the power to trouble Debjit.#ISLMoments #KERvATK #LetsFootball pic.twitter.com/bqoelbRFKO

— Indian Super League (@IndSuperLeague) December 18, 2016
Last Updated Mar 31, 2018, 6:54 PM IST