RFYS Athletics Championships: Bengaluru student Neole Anna Cornelio adjudged 'Best Athlete'
Over 1,200 student-athletes from schools and colleges in and around Bengaluru participated in the Bengaluru leg of the Reliance Foundation Youth Sports Athletics Championships 2018 season at the Sports Authority of India (SAI) Athletics Stadium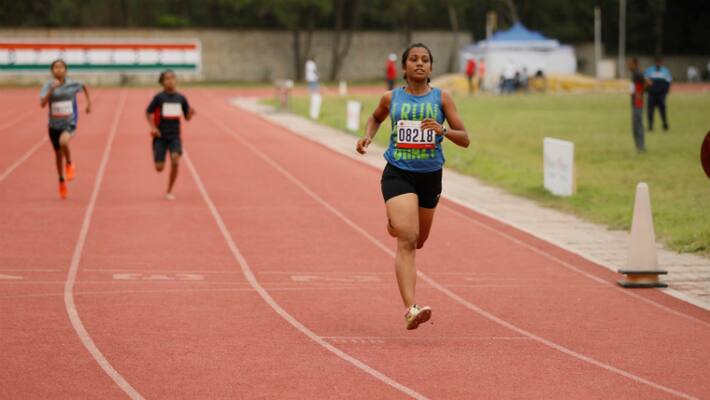 Bengaluru: Sprinter Neole Anna Cornelio produced a blistering run at the Reliance Foundation Youth Sports (RFYS) Athletics 2018-19 season here recently.
The 13-year-old Neole from St Francis Xavier Girls High School, Bengaluru, clocked 12.72 seconds in the Sub-Junior Girls (Under-14) category 100m race to better the national record of 12.73 secs set on December 2, 2010 in Kerala by Majidha Nowrin A. She was adjudged the "Best Athlete" in her category with 854 points.
However, Neole's performance is awaiting ratification by the Athletics Federation of India (AFI) in order to be considered a new national record, a media release from the organisers, said.
Over 1,200 student-athletes from schools and colleges in and around Bengaluru participated in the Bengaluru-leg of the Reliance Foundation Youth Sports Athletics Championships 2018-19 season at the Sports Authority of India (SAI) Athletics Stadium from September 18 to 20.
 
Bengaluru was the fourth leg of the RFYS Athletics Championships which are being conducted across 14 centres followed by a National Final.
The 14 cities that are hosting the championships are Bengaluru, Bhubaneswar, Chennai, Delhi, Guwahati, Hyderabad, Kolkata, Kozhikode, Lucknow Mumbai, Patiala, Rohtak, Trivandrum  and Vadodra. 
Competitions were held in eight categories – Sub Junior Girls and Sub Junior Boys (Classes 7 - 8), Junior Girls and Boys (Classes 9 -10), Senior Girls and Senior Boys (Classes 11-12), College Girls and College Boys (Undergraduate).
RFYS athletics championship are being conducted with a vision to promote athletics at the grassroot level and to identify young talent who may, in the future,  bring laurels to the country.
---
Results
(Read as Category, Best Athlete, School, Points)
Sub-Junior Girls: Neole Anna Cornelio, St. Francis Xavier Girls High School, 854 points
Sub-Junior Boys: Pravith S. Upadhyaya,Sri Sri Ravishankar Vidyamandir School, 578
Junior Girls: Bhavika Chandru, CMR NPS National Public School, 833
Junior Boys: Malik Rehan, Government Sports High School, 810
Senior Girls: Rohitha Chowdry P, Delhi Public School – South Bengaluru, 835
Senior Boys: Yashas, Seshadripuram Independent PU College, 923
College Girls: Daneshawari Ashok T, Sha-Sahib College, 906
College Boys: Abhishek P, Jain CMS, 893
---
(Read as Category, Best Institute/points, Runner-up Institute / points)
Sub-Junior Girls: St. Francis Xavier Girls High School (41); RNS Vidyaniketan School (Vijayanagar) (28)
Sub-Junior Boys: Government Sports High School (41); Smt. Kamlabai Education Institute (20)
Junior Girls: Government Sports High School (81); St. Francis Xavier Girls High School (30)
Junior Boys: Government Sports High School (74); Lake Montfort School (20)
Senior Girls: Government PU College (86); St.Josephs PU College For Girls (31)
Senior Boys: Al Ameen PU College (61)    Vidyavahini PU College (21)
College Girls: NMKRV College For Women (68); Sha-Shib College (57)
College Boys: Al Ameen Arts, Science & Commerce College (80); Jain CMS (41)
Last Updated Oct 8, 2018, 1:35 PM IST