Pankaj Advani's 11th world title: 10 facts about the Billiards champ we must know
Pankaj Adavni bagged his 11th World Billiards Championship on Monday.
It was his 16th overall World title.
Here are 10 rare facts about the ace we must know.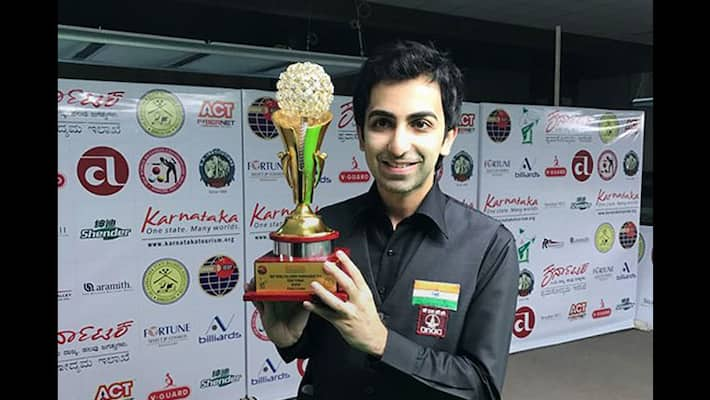 Advani defeated the multiple champion, Peter Gilchrist 151 (98)-33, 150 (97)-95, 124-150, 101 (98)-150 (89), 150 (87)-50, 152-37, 86 (86)-150, 151 (110)-104, 150 (88)-15, to defend his title and win a seventh one in the tournament of English Billiards.
Here are 10 interesting facts about 16 World title-holder, Advani, every Indian must know:
Middle East days:
Advani was born on July 24, 1985, in Pune. He lived his initially days in Kuwait before moving back to Bengaluru and taking up the sport professionally.
Father's death:
When Advani was six years old, his father had passed away. It was his brother, Dr. Shree Advani, a noted Sports and Performance Psychologist who introduced Advani to Snooker and Billiards.
Pankaj Adavani with his brother, Dr. Shree Advani
Guess what?
Advani defeated his brother, who was also his mentor, in the final to lift his first State title. At the age of 12, he won his first title and later went on to triumph in numerous state and national-lever tournaments.
Education:
Despite attending championships parallelly, he earned a distinction in his ICSE and ISC board exams.
First coach:
His first coach was former National Snooker Champion Arvind Savur. Interestingly, Savur initially rejected coaching Advani because the player was short. However, later he agreed to train him.
Unique record:
The 31-year-old Indian is the only player to have won amateur world titles in both snooker and billiards.
Gold medals:
Pankaj Advani bagged the gold medal at 16th Asian Games in Guangzhou in 2010. Source: Getty Images
Advani has two gold medals to his name so far in 14 years of appearance in the sport. He won the medals at Asian Games 2006 and 2010 at Doha and Guangzhou respectively.
Billiards/Snooker, not first choice:
Becoming a businessman was Advani's first dream.
Advani's hat-trick:
He is the only player ever to win professional world titles in both the long and short formats of snooker (15-red standard, and 6-red) and both formats of English billiards (time and point).
Awards:
Pankaj Advani received the Rajiv Gandhi Khel Ratna from APJ Abdul Kalam in 2005. Source: Getty Images
He has been honoured with Arjuna Award (2004), Rajeev Gandhi Khel Ratna (2006) and Padma Shree (2009) so far in his career.
Last Updated Mar 31, 2022, 2:02 PM IST