Meet Majiziya Bhanu, the hijab clad powerlifter from Kozhikode
Majiziya Bhanu, a girl from a small town called Orakatteri in Kerala has been awarded the title 'the strongwoman of Kerala 2017' by the Kerala State Powerlifting Association
She brought home a silver medal with a 370-kg lift in this year's Asian Powerlifting Championship held in Malaysia
She will also be attending the Asian Powerlifting Championship in December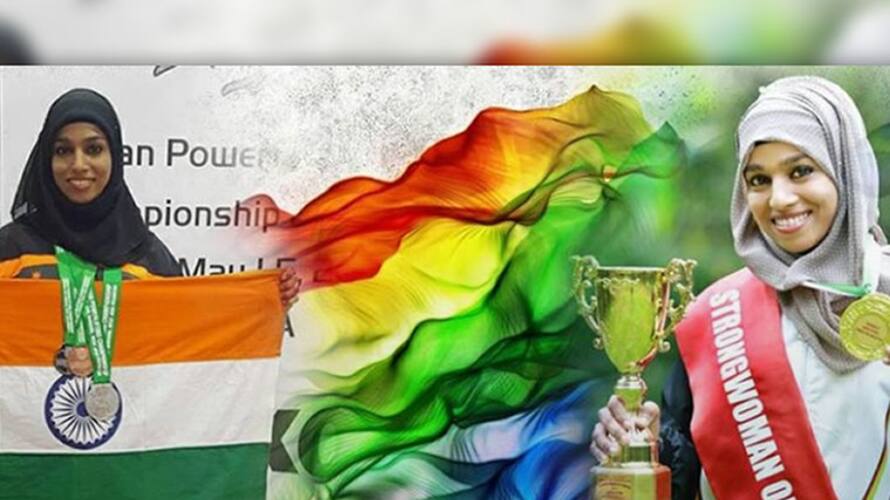 To all the people out there who think that combat sports and bodybuilding is for men only, you clearly do not know what this girl Majiziya Bhanu is capable of.
The girl from a small town called Orakatteri in Kerala has been awarded the title 'the strongwoman of Kerala 2017' by the Kerala State Powerlifting Association.  She brought home a silver medal with a 370-kg lift in this year's Asian Powerlifting Championship held in Malaysia.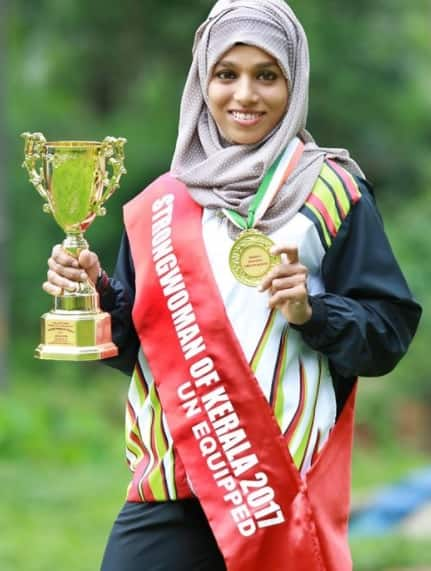 But life is tough for a person to find a gymnasium in a small town. It becomes even harder to train as a woman. I live in a village where not even men train in powerlifting," she told Deccan Chronicle. And not all gymnasiums have facilities for powerlifting.
 "There is a world of difference between weightlifting and powerlifting," she tells Deccan Chronicle. "Rubber weights are lifted for weightlifting, whereas for powerlifting, we lift iron weights. Weightlifting competitions have two rounds and for powerlifting, there are three. The score also differs. Weightlifting is an event in the Olympics and there are only world championships for powerlifting. I hope powerlifting will be considered as an Olympic event as it was part of the National Games this time."
Maziya competes in the 52 kg senior women category. Majiziya's story with powerlifting started after completing school. "Once I finished school, my parents gave me the freedom to pursue anything I like as long as I find time to study. So, I got in touch with my brother's swimming instructor and asked him if there was anything interesting like boxing or weightlifting under the Sports Council anywhere in Kozhikode," she said.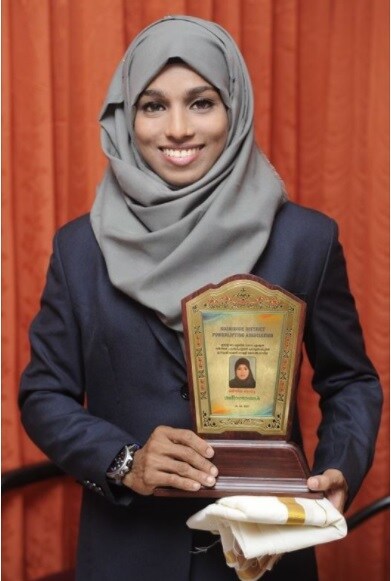 She was introduced to a boxing instructor who felt she should try something more challenging and suggested powerlifting. She began training under coach Jayadas.
Majiziya is a final year BDS student. She is also a devout Muslim and performs her feat with a hijab on. "I get up early. I am a devout Muslim and namaz is a part of life. So after prayers and quick studying, I leave for college by 7. My classes are from 8 to 3.30. I get back home, freshen up a bit, hit the gym and will practice till around 8. After getting home, I find some more time to study and then go to bed," she laughs. Apart from all these, she travels to Kozhikode once a week for her powerlifting training under her coach.
Her current goal is to represent her college at university-level competitions. She will also be attending the Asian powerlifting championship in December
Last Updated Mar 31, 2018, 7:00 PM IST