KPL 2018 Players Auction: Abhimanyu Mithun gets record bid; Robin Uthappa 2nd costliest
KPL 2018 starts on 15 August. Bengaluru, Mysuru and Hubballi are the venues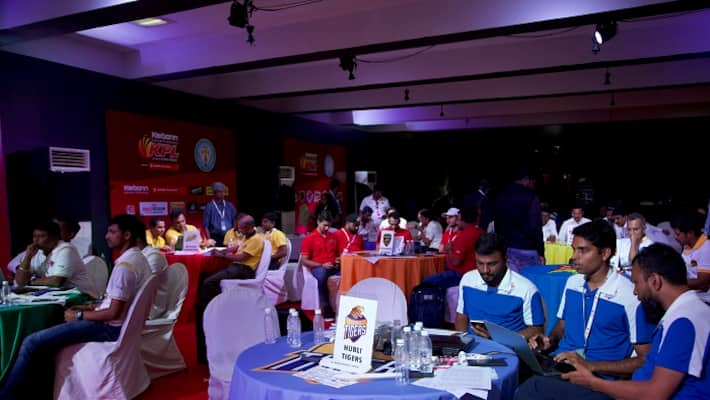 Abhimanyu Mithun and Robin Uthappa were the costliest buys as the seven franchises in the Karnataka Premier League (KPL) 2018 broke the bank in their attempt to build match-winning combinations.
In what was a total cat and mouse game, the franchise owners and their team managements showed that a lot of homework had gone into the Players Auction that took place at the M Chinnaswamy Stadium in Bengaluru on Saturday (21 July).
Shivamogga Lions, Ballari Tuskers and Bengaluru Blasters were the three teams that kept auction host Charu Sharma busy as they fought hard for Mithun, who's no mug with the bat too, and in the end, it was Shivamogga Lions who prevailed, their staggering bid of Rs 8.30 lakh being a record in the KPL.
The teams had a total purse of Rs 30 lakh to complete their squads (minimum 15 and maximum 18) and so strategy was always going to be the key. After the likes of K Gowtham, Mayank Agarwal, R Samarth, Shreyas Gopal were all initially ignored, keeping their probable inclusion in the India A and/or Duleep Trophy sides in mind, stars such as Robin Uthappa (Rs 7.90 lakh to Bengaluru Blasters) and Amit Verma (Rs 7.60 lakh to Mysore Warriors) were earnestly fought for before the attention veered to the Pool B players.
The franchises went hard for both experience and youth as could be seen by the high bids for KB Pawan (Rs 4.55 lakh to Bengaluru Balsters), Arjun Hoysala (Rs 3.10 lakh to Mysore Warriors), Suneel Raju (Rs 3.50 lakh to Bijapur Bulls), KP Appanna (Rs 3.85 lakh to Bijapur Bulls) and Abrar Kazi (Rs 3.50 lakh to Ballari Tuskers) as also Shubang Hegde (Rs 3.05 lakh to Belagavi Panthers), Swapnil Yelave (Rs 3.50 lakh to Ballari Tuskers) and MeluKranthi Kumar (Rs 3.50 lakh to Hubli Tigers) but it was Jonathan R and Nidish who broke the Rs 5 lakh barrier for Pool B barriers.
While middle-order batsman Nidish topped with a bid of Rs 5.85 lakh, Belagavi Panthers bagging him after a tough stand-off with Shivamogga Lions, Ballari Tuskers and Hubli Tigers, the hard-hitting Jonathan had to settle for slightly less, going to Shivamogga Lions for Rs 5.45 lakh. Bengaluru Blasters and Ballari Tuskers ran Shivamogga close.
Earlier, in Pool A, two others breached the Rs 5 lakh mark, opening batsman Mohammed Taha (Rs 5 lakh to Hubli Tigers) and medium pacer Pradeep T (Rs 6.50 lakh to Ballari Tuskers) while fellow pacers HS Sharath (Rs 4.3 lakh to Belagavi Panthers) and Prateek Jain (Rs 4.3 lakh to Mysore Warriors) went for over Rs 4 lakh.
If many of the players went for big sums, there were three buys that would qualify easily as daylight robbery. Mayank Agarwal and Prasidh Krishna, both unsold initially, mostly because of possible unavailability, came back at a reduced minimum price of Rs 25,000 and were cleverly picked by up for the minimum amounts by Hubli Tigers and Bengaluru Blasters for Rs 25,000 and Rs 30,000 respectively.
And at the very end, all-rounder K Gowtham was literally plucked by Mysore Warriors, who at that stage were the only team that had not fulfilled their quota of 18 players. Gowtham may not get to play too many games for Mysore Warriors, but at Rs 25,000, the risk was more than worth it.
In all only two Pool A players, classy batsman R Samarth and proven all-rounder Shreyas Gopal went unsold despite many of them being on the shortlist of the national selectors for higher honours.
KPL 2018 starts on 15 August. Bengaluru, Mysuru and Hubballi are the venues.
10 costliest buys at KPL 2018 Auction
Abhimanyu Mithun (Shivamogga) Rs 8.3 lakh
Robin Uthappa (Bengaluru) Rs 7.9 lakh
Amit Verma (Mysuru) Rs 7.6 lakh
T Pradeep (Ballari) Rs 6.5 lakh
M Nidish (Belagavi) Rs 5.85 lakh
Jonathan Rongsen (Shivamogga) Rs 5.45 lakh
Md. Taha (Hubli) Rs 5 lakh
KB Pawan (Bengaluru) Rs 4.55 lakh
HS Sharath (Belagavi) and Prateek Jain (Mysuru) Rs 4.3 lakh
Last Updated Jul 22, 2018, 11:34 AM IST